There's a ton of plants out there that can grow perfectly under fluorescent lights. A few of them are Chinese Evergreen, Cast Iron Plant, Dracaena, Dumb Cane, English Ivy, Maidenhair Fern, Parlor Palm, Peace Lily, etc.
Fluorescent grow lights can be a bummer if you don't get your hands on something durable. Things get worse if it doesn't offer you good lumens of light. Let's not forget that most fluorescent grow lights, even though are pretty expensive, come with a very short lifespan.
But you obviously want to go for the perfect pick and you know it's a hard nut to crack. Plus, who has all the time to do all that research, right?
Well, guess what? We've done all the homework for you. Imagine we help you pick something that has got more than 6000 lumens of light, steel housing construction, and most importantly great life span.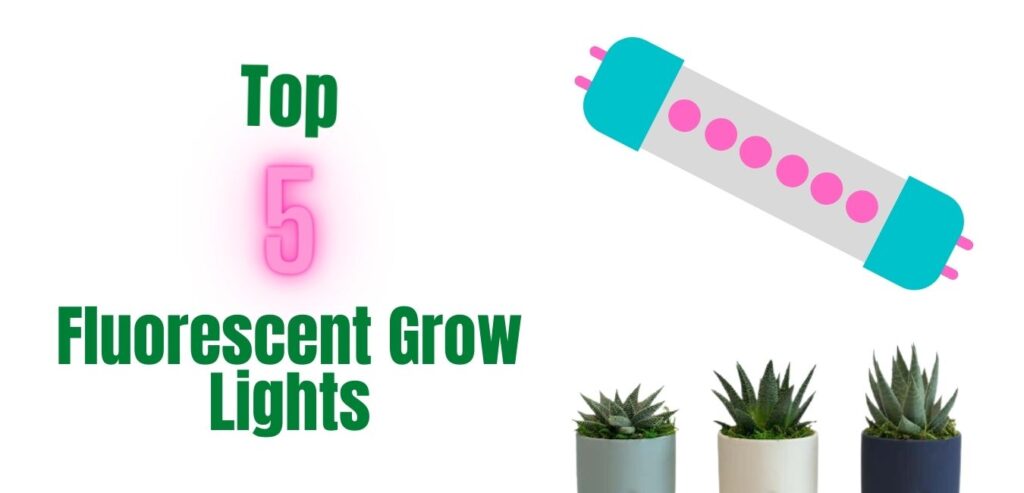 Yep, today's the day. All you need to do is read our reviews as we've found the top 5 T5 fluorescent grow lights available in the market. Who knows? You might just get the one you're searching for.
Out Top Picks-
What Fluorescent Bulb Is Best For Growing?
Tubular lights are given "T" ratings to indicate the diameter of the tube. T12 lights are given this rating because they are 1.5 inches in diameter or 12/8 inches. These tubes were used frequently in indoor lighting applications but were not very bright and could only be made with half-spectrum glass.
T5 bulbs are narrower than T12 lamps, with a diameter of 5/8 of an inch. Use a T5 bulb that has an additional "HO" rating, which denotes "high output." This means that the ballast has been adjusted to make the lights even brighter—and for horticulture purposes, more effective.
Dr. Nate Storey says- "That is an extremely high-output overhead light. If you put a T5 light next to a T12 and turn it on, you will be surprised by the difference."
Fluorescent Lamp Pros
Low energy consumption makes it cost-effective.
Like standard light bulbs, standard lighting is relatively cheap.
Very mainstream. It's very popular.
Ideal for small cultivation spaces with a little vegetation.
They work well for seedlings and the Vegetative stage.
Fluorescent Lamp Cons
Cannot function in larger grow tents.
A socket is required for each bulb.
Bulbs are likely to become damaged easily.
On the flip side, yields are low because the lights are weaker.
5 Best T5 Fluorescent Grow Lights Review
Too many options will never get you less confused. So, to keep the list short, we've included the best T5 fluorescent grow lights that we believe you'd love to have for your indoor garden. Here comes the first one –
1. Hydrofarm Agrobrite T5 Grow Light
For in-house gardening, you can get a plant everything, but it still can remain malnourished if you just miss one single thing, and that is the sunlight. Thankfully, with the alternatives like Agrobrite FLT24 Grow Light System from Hydrofarm, you won't have to worry about that.
Basically, the light has to be bright enough to push the growth of the plants. Guess what this one got there? 8,000 Lumens! Do you still think you'll have any problem getting enough light there? After all, there are four 6400K T5 Tubes waiting to do that job. On top of that, its steel housing with powder coating not only gives it a solid construction but also perfect appeal. Plus, if you want to add multiple fixtures at a time with a single outlet just because your garden is too big, you can do that too, as it's daisy-chainable.
By the way, how far is your power outlet? Well, with its 8′ power cord, we don't think reaching there will be a problem. And yes, you can hang it in every way you like, from horizontal and vertical to overhead.
Pros
• Four 6400K T5 Tubes can reach 8000 lumens
• Steel housing ensures better construction
• Daisy chainable allows running multiple fixtures
• Can be hanged in 3 different ways
• 8′ power cord ensures better power outlet reach
Cons
• Can't adjust the light intensity
2. Hydrofarm Agrobrite T5 4-Tube Fixture with Lamps
Looks like team Hydrofarm is not in the mood to make the regular dull-looking grow lights anymore. At least, their Agrobrite FLP44 is saying so.
Its aluminum construction is covered with beautiful brown color where you'll get kind of a textured feeling. No need to say that's what has made it look exceptionally appealing.
But what is the meaning of having a good design if the light can't do what it's made for? Thankfully the four 6400K T5 Tubes won't let you down there with 20,000 Lumens. Besides, for getting it connected right away, it comes with a 10′ power cord, which is actually longer than their last model. But what you'll absolutely love is its plug-and-play nature. You won't even have to go through any extra hassle to get it started.
So, what are you planning about the hanging configuration? Well, there are two ways for you to do that – overhead and vertically. Like the finest T5 fluorescent grow lights, this one too is Daisy chainable. So, running multiple fixtures with a single outlet will be a piece of cake.
Pros
• Strong aluminum construction covered with nice brown color
• Comes with overhead and vertical hanging configuration
• 10′ power cord helps to reach power outlet easily
• Daisy chainable makes running multiple fixtures easier
Cons
• Can't be hanged horizontally
3. iPower 24W T5 Fluorescent Grow Light
What are you going to do when you've got a perfectly functional lighting system, but the lights decide to go spoiled? You'll bring in the new one, right? Then we say give the 2FT Grow Lights from iPower a shot and see how that blows your mind.
There are five of them, and each of them has a color temperature of 6400K. With this, they can deliver you 2200 lumens at once. If that's not enough for your plants, then we don't know what is. Thanks to their high output intensity that makes them perfect for anything like greenhouses, aquariums, propagation, etc.
For keeping the waste at the minimum, the makers have made sure that the heat emission stays low. A fair share of credit for that goes to its soft glow too. On top of that, their lifespan also comes with an impressive number, which is over 20000 hours.
But how far can they contribute to being economical? Well, if you focus on its low heat emission, you'll see that it has taken out the requirement of not only expensive ventilation but also air conditioning. So, clearly, you won't be shedding any extra bucks with them.
Pros
• 6400K lights deliver up to 2200 lumens
• Soft glow keeps the waste at the minimum
• Has a life span of over 20000 hours
• Doesn't need air conditioning due to low heat emission
Cons
• Thin shipping tubes raise the chance of damage
4. AeroGarden 100340 Fluorescent Grow Light
It's true that nothing can replace the sun. But when you have something like the 100340 Grow Light Bulb from AeroGarden, we don't think you'd need the sun in the first place. Indeed, while you're trying for in-house gardening, the growth of your plants won't come out of the blue. But with the Proprietary light spectrum of this fluorescent bulb, you can count that growth guaranteed. The bulb itself will accelerate the growth in the proper manner. Here's an explanation of what color light is best for plant growth.
Once you put that in, you won't have to think about replacing it before 6 months at least. All you need with it just the right AeroGarden model, and it will light up your garden better than ever. With the 4.5″ x 4″ x 7″ dimension, it can light up a decently big area in your garden. But don't think about going for something too big without the right setup.
Pros
• Proprietary light spectrum accelerates the growth
• Perfect dimension helps with lighting decent sized areas
• Totally compatible with AeroGarden models
• Lasts up to six months
Cons
• Expensive compared to other options
5. Sun Blaze T5 Fluorescent Grow Light
It's time to give the finishing touch to our list with the last one. But the good news is it too is one of the finest fluorescents grow lights you'll ever see out there. Yes, it's the HGC960315 Indoor Grow Light from Sun Blaze. You can simply call the HGC960315 a perfect mixture of ease and efficiency with closed eyes. Why? Well, take the 24-Watt 6500° K T5 lamp for example. It brings in all the light your plant will need to have proper growth. On top of that, its High Output (HO) ballast pushes life longer than ever.
Now the question is, how good its fixture is. Don't go on its plastic construction as it can easily accommodate 2-ft replacement lamps. Besides, if you're feeling like you might need the daisy chain for putting in multiple fixtures, then you can rely on the 4″ jumper cable for that. As it's just 1.5 pounds, setting it in your in-house garden will be easy as pie. And don't worry about the mounting hardware; the package comes with them.
Pros
• 6500°K T5 lamp ensures proper plant growth
• Lightweight makes the installation easier
• Fixture is capable of accommodating 2-ft replacement lamps
• Comes with mounting hardware for installation
• HO ballast pushes the lifetime higher
Cons
• Plastic made construction is not so sturdy
Looking for the best led grow light for tomatoes? Here is a list of our top 5 picks.
Fluorescent vs. Led Grow Light
We bet when you saw the headline: 'fluorescent vs LED grow light' you've got the idea of what this part is about. Yes, the comparison. After all, they're the two most obvious options gardeners look out for when it comes to grow lights. So, what makes these two different from each other? Let's check that out.
Heat Level
The first thing that makes fluorescent and LED grow light different from each other is the heat level. Compared to LED, fluorescent is a bit hotter. That's why it's suggested to keep the plant at a certain distance.
Effectiveness
For decades, gardeners have considered fluorescent as the ideal option for grow lights, and to be honest, they weren't wrong. But LED lights are comparatively new to the game. So, it's a bit tough to detect their effectiveness over different kinds of plants as they're still not widely used as fluorescent.
Price
If you're not in the mood to break the bank, then choosing the fluorescent to grow lights will be better for you. On the other hand, you might have to dig deeper in your pocket to get those LEDs in your garden.
FAQs on Fluorescent Grow Lights
Can you use regular fluorescent lights to grow plants?
Yes, you can. Actually, it's said nowhere that regular fluorescent lights can't help in plant growth. But the ones that are specifically made for plant growth come with some extra features too.
How far should fluorescent grow lights be from plants?
There's no doubt that Fluorescent tubes release a little heat. So, it's better to let your plants and seedlings be at least 4″ to 6″ under the fluorescent light. When it comes to Incandescent or similar bulbs, the heat can get higher. So, it's better to keep the light at least a foot above.
How much fluorescent light is enough?
Measure the distribution of your fluorescent lights with a lighting meter. There are large numbers of equipment manufacturers of fluorescent lights and too many variables between the lights and their installations to know what kind of coverage you'll get until you put them on the layout. Know what your light meter indicates.

For mature plants, a very generalized recommendation is that the minimum level of light is 250 + [PAR] . A PAR meter can be utilized to determine this level.
What plants grow under fluorescent light?
Fluorescent lights are very effective for modest vegetation calls for environments with low to medium light requirements, such as plant households of Spathes, Sansevieria, Pothos, African Violets etc.
Final Words
Who knew one day the garden will come inside our house? Thanks to techs like the best fluorescent grow lights for taking us there. Here, we've tried to get you introduced to the finest grow light options with all the ins and outs. But if you're still confused, then a few suggestions might help.
For example, if your focus is minimizing waste, then iPower 2FT Grow Lights can be a game-changer for you. But if you're looking for higher Lumens, then we say you better go with HydrofarmAgrobrite FLP44. On the other hand, the HydrofarmAgrobrite FLT24 can show promising performance in running multiple fixtures.