What is the first thought that comes to your mind when you go by the side of any tomato farm out there? Wasn't it like – "Damn! I wish I could have a tomato farm like this. Actually, the way we're losing open grounds to houses and offices, it's kind of impossible to do something like that in urban areas.
Hey! Why don't you try that in your own house? Just bring in the best grow lights for tomatoes and get started. They'll help with the growth in your own house, have a longer life span, and are also easy to use.
Now the problem is, this concept has been so well appreciated that tons of options have jumped in the markets of growth lights. But don't worry; we've got your back with the list of finest grow lights that you can pick from.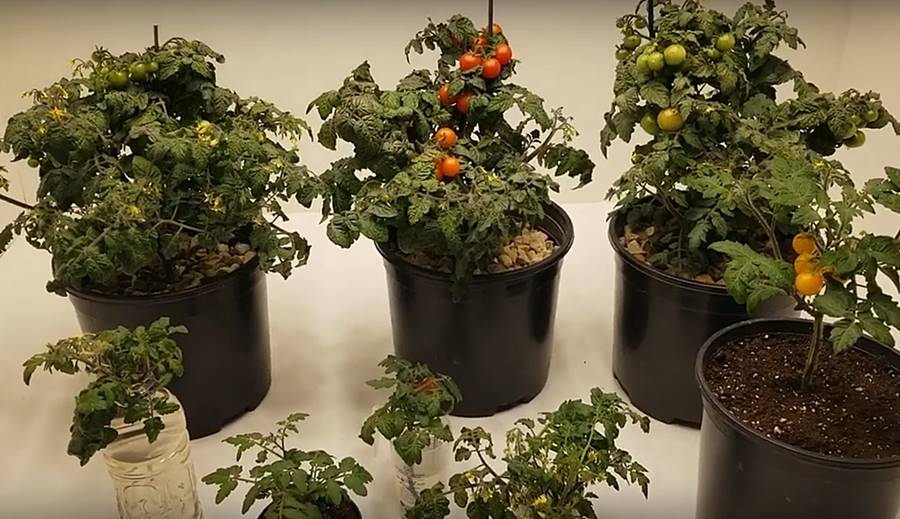 5 Best Grow Lights for Tomatoes and Peppers: Reviews
If you start counting today, it might take hours for you to finish counting the number of grow lights you'll see out there. But the easier the counting is, the harder finding the right one will be. So, we've made our list with the top 5 of them to make it easier for you. Here comes –
1. MSMKEJI Grow Light Bulbs for Tomatoes
Indeed you're not going to have the sun in your indoor garden, but that doesn't mean team MSMKEJI will let you miss the closest alternative. Yes, we're talking about their 100W Grow Light Bulbs.
The first thing that will leave you impressed is its amazing 3-modes option. This means if you're missing the best grow lights for tomato seedlings, then its veg mode will take care of that.
But if you're asking for light on your growing plants, then it's got the Bloom Mode right there for that. Plus, its Full Mode will simply be perfect for your plant's fruiting and flowering.
Wait a minute! There's more. We don't know how often you forget to turn on or off the light, but its Auto On/Off Timer got that part covered for you. On top of that, you won't even have to get closer to make it operational. The remote control can handle that part.
Plus, with the 50000 hours lifespan, you won't have to think about getting new lights any sooner. Besides, to maximize the growth, the 186 LED chips will deliver you a performance you probably haven't seen before.
Pros
• 3-modes options assist in all growth stages
• 186 LED chips help in maximizing growth
• Comes with Auto On/Off Timer
• Remote control allows distant controlling
• 50000 hours lifespan makes it run longer
Cons
• Timer is possible to set for 1-20 hours only
2. Durebler UV COB Grow Light
When you want to see a plant's growth from zero to full growth, you can't compromise on everything it needs, including the light. But in a house, that's impossible unless you get something like the UV Grow Light from Durebler.
To accelerate your plant's in-house growth, the 1000W LED light comes in two different modes. One of them is Veg, and the other one is Bloom. Clearly, you won't be having any problem in the seedlings stage with the Veg mode. For growing plants, the bloom mode will be more than perfect.
And if you're asking for any of them, there are two different switches to help you out with that. Plus, the two knobs make adjusting the light intensity needed for tomatoes in both modes easy as pie.
In case you're thinking how much time it takes to get started, there's a master switch you'll be seeing used for instant activation. On top of that, the efficient Heat dissipation system won't give it a chance to get overheated.
Pros
• Dual-mode is helpful in different growth stage
• Master switch allows instant activation
• Separate switches to help in turning on the modes
• Dual knobs make the preferred adjustment easier
• Heat dissipation system minimizes overheating
Cons
• Has no auto timer option
3. Miracle LED Absolute Daylight Grow Lite
If you're feeling the fluorescent lights you've seen are nothing more than some electricity sucker, then we bet you'll love the next one on our list. It's the 605088 LED Plant Growing Bulb from MiracleLED.
This might make you forget even the best grow lights for tomatoes and peppers you've seen before. The reason is nothing but its 9W LED taking the place of the 100W flood. No matter what you're trying to grow, whether that's plant or vegetable, it can influence the growth significantly.
Plus, if you want it for promoting flowering or fruiting, it can still go strong. Rather than going to the hassle of switches and knobs, you just need to put that on like a regular bulb. So, zero hassle in installation there.
But what we thought was the most impressive part is its low cost. In a whole year, it won't cost you more than $1.08. Moreover, this full-spectrum hydroponic LED light bulb is not only compatible for indoor but for greenhouse and garden too. Have an indoor citrus tree? Check out the best 5 grow light for growing citrus trees Indoor.
Pros
• 9W LED can perform like 100W flood
• Doesn't cost more than $1.08 a year
• Goes perfectly with indoor, greenhouse, and garden
• Regular bulb style eliminate installation hassle
Cons
• No option for controlling the light intensity
4. iPower T5 Fluorescent Grow Light with Stand Rack
Putting a proper setup for installing grow lights is a hassle in itself. But what if you get something that doesn't come with the light only but the setup too? Well, that's what is going to happen when you've got the GLT5XX2 Grow Light System from iPower.
No matter what you've got in mind, whether it's propagating cuttings, starting seeds, or growing indoor plants, it can shower them all with sufficient light. Thanks to its T5 bulb with fluorescent fixture backed by a wide reflector for that. Besides, that bulb is a real money saver as it sucks up less electricity.
But what has helped it in for being one of the finest T5 grow lights for tomatoes is its metal made stand. Along with being sturdy, it's also super easy to adjust. So, you can make it high or low anytime you want.
By the way, there are two more good sides to this stand. One, it's too easy to install, and it won't be eating up much of your space. Plus, with a weight of 6.4 pounds, it'll be a piece of cake to move.
Pros
• Metal made stand is sturdy and adjustable
• 6.4 pounds weight is light enough to move easily
• Bulb requires less electricity and saves money
• T5 bulb delivers sufficient light for all houseplants
• Stand is easy to install
Cons
• Need more space than regular grow lights
5. iPower GLLEDXA300C LED Grow Light
Who said team iPower doesn't have anything colorful in their bag? If anyone has said that, then he/she probably didn't see their GLLEDXA300C LED Grow Light.
In the race of energy-saving, this light has surpassed HID lighting and fluorescent lamps with a smiling face. After all, it's capable of saving up to 80% energy compared to them.
Not only in energy consumption, but this light is also cooler compared to HID lighting. A huge part of that credit goes to its internal fan though that has pushed the cooling 35%.
For easier operation, the built-in switch does the on/off part. Plus, you can add an auto timer with it, too, if you like. And yes, you can use it on almost any plant such as potatoes, peppers, tomatoes, lettuce, etc. So, if anyone is planning on getting started with hydroponics or horticulture, it can turn into the perfect lighting tech for them. If you are looking for 300 watts led grow light for your indoor vegetables, this guide will help you a lot.
Pros
• Internal fan adds 35% more cooling
• Saves energy up to 80%
• Built-in switch eases up turning on and off
• Helpful in the growth of plants like tomatoes, potatoes, peppers
Cons
• No way to control the light intensity
FAQs on Growing Tomatoes Indoor
How long to leave grow light on tomatoes?
As the growth of the tomatoes depends on how long you're using the light, you better keep it that way for 5-12 days for germinating the seeds. The time should be at 18-24 hours a day.
What temperature is too cold for tomato plants?
The proper amount of temperature can make tomato plants grow faster and healthier. But in case it drops below 50° F, there can be issues.
How long can a tomato plant live in a greenhouse?
Care can make everything last, and tomato plants are not beyond that either, even if they're in a greenhouse. So, if you give the plant proper nutrition and care, you can make it live for three years there.
How long does it take for a tomato plant to bear fruit?
For being matured, a tomato plant will need at least 20-30 days. But for bearing fruit, it'll take a bit more. You'll have to wait for 40-50 days to see the fruit on your plant once you plant them on the ground.
Final Words
Indeed the best grow lights for tomatoes can boost up the perfect growth of your plants. But before you make the jump, be sure about what you're putting your hands on. For example, if you're thinking about getting the one with maximum modes, then MSMKEJI 100W Grow Light Bulbs will be perfect. But when you don't even have the setup for the light, we say you go with the iPower GLT5XX2.
On the other hand, iPower GLLEDXA300C will be better if you're more into getting the job done without sacrificing more energy. Now, you decide how you'd like it.