Gardening can seem effortless if you have a greenhouse. Among the various technological innovations that have made this hobby more enjoyable, the most noteworthy one is Grow Light.
If you want to boost production in your outdoor garden, this thing is extremely handy. Knowing how to get the best grow lights for vegetables can go a long way to having lush and ripe crops faster.
And in this process, we'll be helping you with our detailed reviews pointing out the advantages and drawbacks of each product. We have left no stone unturned to bring you the best picks from the market.
So, let's get the show on the road!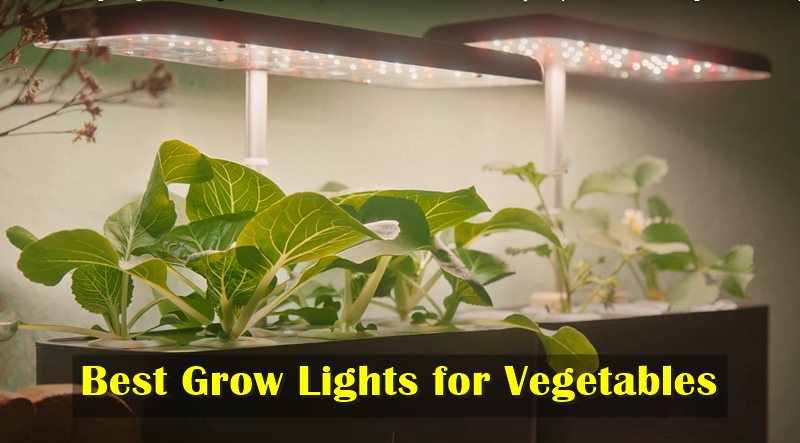 Here is a quick list of our top picks:
Reviews: 5 Best Grow Lights for Vegetables
Below are 5 of the most premium grow lights for vegetables available currently. Please continue reading to discover their features, the benefits of using them, and finding out which option will cater to your needs the most.
1. FREELICHT Full Spectrum LED Grow Light
Wouldn't it be simply fantastic to buy a grow light that can illuminate your entire greenhouse by itself? The FREELICHT LED Grow Light, one of the most efficient indoor grow lights for vegetables, herbs and microgreens can effortlessly fulfill this need.
Each purchase comes with four units of bulbs which is more than enough to lighten large areas by itself. Very few competitors can match up to the performance of this product. Its rays are soothing and warm. Therefore, you will be artificially able to emulate the glow and warmth of sunlight through it.
Furthermore, it has a red spectrum for accelerating photosynthesis. This innovative integration will have your crops growing and blooming faster!
Versatility is one of the most exciting aspects of owning this item. Unlike other grow lights, you won't have to worry about redesigning your garden layout or leave extra space for its placement.
You can place it anywhere you want with its surface mount. Moreover, you can also hang it from the ceiling. Although it might have a slim look, it can connect with a maximum of 10 bulbs to thoroughly illuminate an area.
Despite providing such extraordinary performance, you won't have to worry about the electricity bill when using this model. It employs 60W bulbs, which is exceptionally efficient for conserving energy. Moreover, its brightness is similar to that of 220W HPS, allowing this grow Light to save up on 70% of the utility expense compared to other alternatives.
Pros
Packs of four units with each purchase
Designed for convenient placement in multiple positions
Unique red spectrum to enhance photosynthesis
60W bulbs for economical electricity consumption
Blue LED Light to increase germination and growth
Cons
Relatively less intensity in terms of brightness
Exterior gets extremely hot over time and can injure on touch
Verdict
If gardening is more of a job than a hobby for you, then the FREELICHT LED Light is what you exactly want. It's big, ample in quality, and designed for industrial greenhouses. One purchase is all you will need to lighten up the place.
2. SEAMETAL LED Grow Light for Vegetables
Growing plants in the winter can be a tiring process. Even greenhouses aren't as effective compared to other seasons as the cold environment really hinders the progress.
In such scenarios, the SEAMETAL LED Grow Light can be the perfect solution. Its square-like designs allow the crops to receive extra light for a more extended period.
Variety is an excellent factor about this grow light. You can use it to specifically target a part of the plant's growth and amplify its progress.
It comes with two different lights, blue and red, to increase its purpose. You can use this option to simultaneously increase the vegetative growth of crops while also making them flower faster. Another significant aspect of this grow light is its ability to provide more value. Do not underestimate its small bulbs, as it can produce as much as a conventional 300 watts bulb.
Moreover, it consumes less than half of the energy the latter requires. Thus, its 70-watt lights will let you conserve electricity more and reduce your expenses significantly.
A factor that gardeners put much thought into when buying grow lights is comfort. However, it can make a drastic difference, as is noticeable in the case of this item.
The SEAMETAL LED Grow Lights make no noise when it is operational. The soundless atmosphere will have a soothing effect on you and make gardening more enjoyable.
Pros
Two packs sold with each purchase
Two different aspects for catering to different functions
Flat panel-like designs to increase continuous usage time
Brightness equals to the traditional 300W variants
70-Watt bulbs for conserving more electricity
Cons
Comparatively poor longevity
Susceptible to burning up over prolonged use
Verdict
Gardening enthusiasts who want to have every process of their plant's growth stage within their control will love the SEAMETAL LED Lights. However, be ready to spend on replacements as they don't last much.
3. Shengsite 75W LED Grow Light
Imagine owning a grow light that can simultaneously cater to multiple needs of your plants while also providing you with superb convenience.
Well, you will be getting precisely those comforts with the Shengsite LED Grow Light. It simultaneously sheds light from blue and red bulbs to quicken vegetables growth while also making them ripe and fresh.
Design is a vital aspect to consider when buying a grow light. It is a quick and easy determinant of whether the model is a suitable fit for your greenhouse. Well, you won't have to worry about that with this product. Its shape resembles that of a condenser cup. Therefore, you can comfortably hang it up while it provides equally intense light throughout the area.
Bulbs are perhaps the most crucial part of a grow light. It plays the role of providing nutrition to your plants while also ensuring their steady growth. Shengsite has integrated this unit with the finest Gree LED bits; each one has 250 pieces. As a result, they provide only the amount of heat your vegetables will need and save up on electricity.
Convenience and compatibility are also excellent aspects of this product. The model itself is incredibly lightweight. Therefore, you will be able to carry it around effortlessly and set it up without straining yourself. Furthermore, they also work effectively on bonsai and succulents alongside vegetables, making them more versatile.
It also has an incredible lifespan of 50,000 hours, which eliminates the need for frequent replacements.
Pros
Performs multiple functions at the same time to increase productivity
Unique condenser cup for convenient placement anywhere
Less heat and more brightness for proper vegetable growth
Applicable for cultivating different types of plants
Cons
Relatively weak bulbs
Red LED lights lack intensity
Verdict
Shengsite LED Lights are for gardeners who want to multitask when growing vegetables. It's efficient and speeds up the process effectively. You'll have to accept that it's not as intense as most of its peers.
4. Xingruyu Foldable Sunlike LED Glow Light
Most of the grow lights you will find in the current market focus on a more practical design than one with aesthetic value. You will find the Xingruyu LED Glow Light to be quite exceptional in this regard.
Its design is unique and resembles that of a ceiling fan. You can easily place it anywhere in your greenhouse, and it will not look like an oddball from any angle. Layout plays a pivotal part in the effectiveness of a grow light in terms of nutrition distribution. If the bulb placements aren't strategic, then there's a high chance of inconsistent growth among your vegetables.
You won't have to worry about this problem when using this unit. It has a total of 414 chips of LED with a proper ratio between warm lights, red, and blue lights. One of the most growing tensions between gardeners when getting a grow light for their greenhouses is their tendency to get extremely hot.
The last thing they want is their entire establishment to go up in front because of the lighting arrangements. Thankfully, the Xingruyu LED Glow Light's find heat sink allows for a quick cool down.
Another excellent aspect of this grow light is its safety measures. Despite having a powerful bulb of 150W, it consumes only 35W, not to push its limits. Furthermore, the entire body of this model is entirely waterproof. Therefore, you won't have to worry about sprays damaging it. It also comes with a power cord for a convenient plug-in in almost all areas.
Pros
Special triangular design to illuminate more space
414 light pieces with three different variations for more effectivity
Consistently potent light distribution in all areas
Heat sink feature to quickly cool the device
Fully waterproof for protection from rough use
Cons
Bulbs are of relatively low quality
Brightness overpowers the warmth
Verdict
Gardeners who prefer value over everything else will love the Xingruyu LED Glow lights. Just be sure to shield your eyes as the brightness might feel overwhelming.
5. HevenJx LED Grow Lamp for Indoor Plants
Internal workings are a vital factor to consider when buying a grow light. Unfortunately, gardening novices often overlook this part and end up with a model that makes the entire process uncomfortable.
The HevenJx LED Grow Light is an incredible option that understands its significance. It is exceptionally light in weight, has no fans, and completely noiseless, making it an excellent choice.
Most grow lights tend to be massively large and are suitable for industrial greenhouses. However, this product is manufactured for those who want lighting within a more personal space.
It has 48 LEDs, with a total of 3 colors to cater to getting vegetables to grow healthily throughout all of its stages. Simultaneously, it also maintains a compact size. The build is something you have to look into when buying a grow lamp. It is a prime indicator of the possible longevity of the product as well as its sturdiness.
The HevenJX LED Grow Light has an aluminum casing which substantially increases its ability to absorb the heat of the bulbs. Furthermore, it has an internal cooling system for monitoring the temperature and prevent overheating.
Last but not least, this item is incredibly flexible, and you can conveniently install it anywhere. This benefit is mainly possible due to its rotating arm of 180-degrees. You can put it on the wall, hang it from the ceiling, and even adjust its height to make the most out of it. Overall, it is undoubtedly one of the best grow lights for tomatoes, lettuce and other vegetables.
Pros
Perfect for use in small areas
Aluminum casing to easily contain more heat
Internal cooldown system to counter overheating
Emits no sound when functional and extremely lightweight
Flexible arm for quick installation in multiple positions
Cons
Not suitable for industrial greenhouses
Can't cater to large batches of vegetables
Verdict
The HevenJx LED Lights are a solid investment for the most part. Its cooling system will ensure that it will work efficiently for a long time. However, it's only good for small-scale greenhouses, so purchase accordingly.
What To Consider Before Buying A Grow Light for Vegetables
There aren't many things to consider while looking for the best grow lights for vegetables. However, two things are necessary to mention; light types, spectrum, Lumens, and watts.
1. Light Types
There are multiple grow light types in the market if you look for them. The major light types are however six:
Metal Vapor Lights
High-intensity discharge (HID) lamps
High-pressure sodium (HPS)
Incandescent lights
Fluorescent lights
LED lights
Of these six types, the first four are barely used at present times since they are costlier, less efficient, old, or not suitable for microgreens. That's why we'll stick our discussion to the last two.
The best ones that you need to use for the good growth of any type of vegetables are two; fluorescent and LED lights.
Fluorescent Lights
These lights are mostly used for indoor-grown plants that require medium light. Most vegetables fall in this category. Fluorescent lights come in tube-like bulbs.
Once upon a time, these lights used to be the go-to source of plant lamps. However, they fell out of favor since they don't last that long.
LED Bulbs
You'll find most large-scale commercial operations using LED lights for growing vegetables because they last longer than fluorescent lights.
Short for light-emitting-diode, LED is the most common type of Grow Light used for growing microgreens and vegetables indoors. They are highly efficient and emit all spectrums of light necessary for plant growth, vegetation, and fruiting. That is why LED bulbs are the best lights for vegetable growth.
2. Mind The Spectrum
The natural light from the sun emits all light frequencies within the electromagnetic spectrum. This means all types of plants get whatever light is necessary from this single light source.
The spectrum of light basically means the graphical display of each color in the light. This is expressed through wavelengths and its unit is nanometer (nm).
Light is a fundamental necessity for most of the plants' survival on this planet. They use light for the photosynthesis process that produces their food. Plants mostly use the PAR (photosynthetic active radiation) region in the light spectrum which falls between 400 and 700 nanometers.
Artificial lights, however, don't provide all light spectrum from the same bulb. That is why you need to consider which light frequency your plant type needs at the moment.
For example, blue light falls between 400 to 520 nm wavelengths and this light affects the chlorophyll content present in the vegetables. This light is necessary for both the vegetative and flowering stages of your vegetables.
Another essential thing for the growth of stems and the expansion of leaves for your vegetables is the red light. Falls around the 700 nm range, the red light is considered the most efficient at driving photosynthesis during the flowering stage. It also helps in seed germination.
That's why, for leafy vegetable growth, you need to buy higher spectrum bulbs in the blue and red range. Because it is the first color that plants absorb in their vegetative stage.
Outside these two spectrums of light plants rarely use other lights for their photosynthetic activity. So one of the reasons why we see more efficiency using grow lights is that the lights can be very specific for the vegetable' needs.
Light spectrums outside of blue and red wavelengths are used least by plants to grow as reds and blues are where most photosynthetic activity occurs – a big reason why full-spectrum grow lights are incredibly efficient because a grower can get very specific.
3. Brightness
Another important thing to consider while buying is the brightness of the lights. The brightness of your grow lights needs to be on par with that of natural light otherwise the vegetables won't get much energy and won't probably grow enough.
How do you measure the brightness of the lights?
Well, traditionally people used watts to measure the amount of light produced by a bulb. However, this doesn't work with modern LED lights.
Watts, in modern-day LED lights, are used for measuring the amount of energy consumed by the lights rather than the brightness. Instead, lumens are the best unit to measure the brightness of the light.
Lumens are a measurement of the brightness of light per watt. Usually, LED lights give off more lumens per watt. That's why a compact LED fixture might provide brighter light inspite of consuming less watts. More lumens means more brightness and it results in more growable energy for the plants.
How many lumens should you use on those vegetables then?
Well, vegetables usually need 2000 to 3000 lumens per sq. foot of growing space. Therefore, if your vegetable grows on an area of 9 sq. feet you'd require to provide from 18000 to 27000 lumens of light to properly cover that area.
In general, you'll find LED bulbs producing around 300 lumens per watt. So your 9 square feet growing area you might require from 60 to 90 watts.
Other than these three there isn't much to look out for when buying good grow light for your vegetables. Any of the bulb types between LED and Fluorescent will be perfect. Just look out for lifespan, warranty, and energy efficiency for saving trouble in the long run.
Frequently Asked Questions
What vegetables grow well in artificial light?
If you try hard enough, you can grow most veggies in artificial light. However, there are a few options that seem to respond better than the others. Spinach, tomatoes, carrots, and lettuce are some of the most popular choices for growing under grow lights.
What wattage of grow light for vegetables?
Grow lights for vegetables are expected to provide a minimum brightness of bulbs having 220-230 Watts. However, loads of models provide the same performance despite having a minimal wattage of 35-40 Watts.
How long do you leave grow lights on for vegetables?
Although many people prefer to leave grow light on for 24 hours, you can opt for 8-10 hours a day. It is enough to nourish the plants while also helping you conserve electricity.
Can carrots be grown indoors?
Carrots are one of the most popular options when it comes to growing vegetables indoors. Since they are a root plant, they seem to thrive better in these conditions than most other options.
What supplies do I need to grow vegetables indoors?
Essentially, you will need a fully functional greenhouse to grow vegetables effectively indoors. It includes supplies like lighting, organic growth accelerators, containers, ample water supply, and proper air circulation for the crops to grow efficiently.
Final Words
Growing vegetables in a greenhouse can be an incredibly fun and rewarding pastime. Now that you know the standards for the best grow lights for vegetables, finding a suitable model will be quite easy. Now all that's left is to sit back and watch your seeds grow into lush crops in no time!