During the formative period, plants need light and nutrition to grow. And to grow vegetation indoors, you'll need to provide these essentials artificially. So, if you are planning an indoor plant nursery, LED lights can offer the perfect solution.
Herein, make sure you buy warm red and white color LED lights as they are the best for vegetative growth. To help you with the decision-making process here, we've reviewed the top 5 options for the best LED light for vegetative growth. Our article should work as a perfect buying guide for you during the purchase.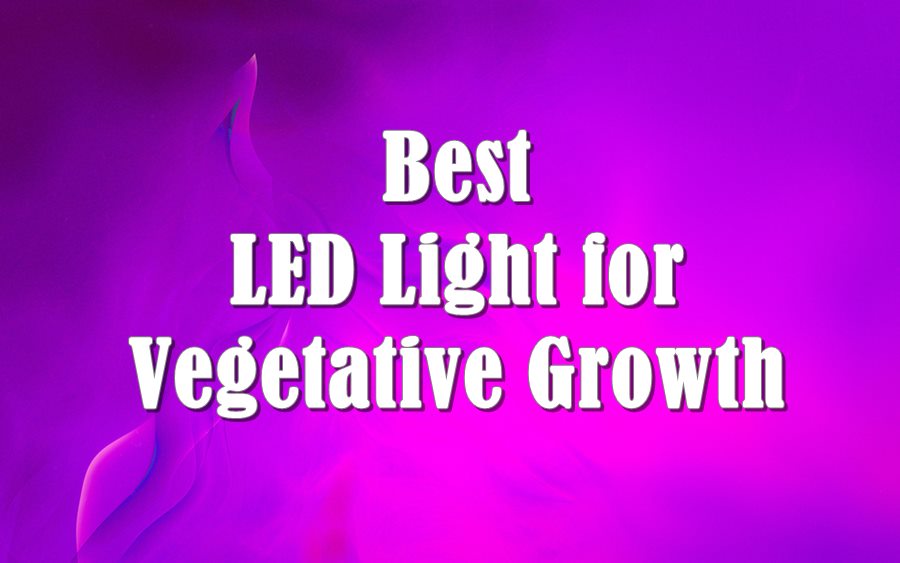 5 Best LED Light for Vegetative Growth
Growing vegetables indoors is much easier with the right LED light. Here is a list of products that have shown great and effective results in the past.
1. ACKE Indoor Plants LED Grow Light
The first LED light on our list is quite versatile. What we love the most about the product is that it emits lights that provide support to a variety of plants. Its benefits are not just limited to one kind of plant to enjoy.
Warm red and white colors such as this one is the best light spectrum for vegetative growth. Not only does it promote vegetation to grow faster indoors, but it is also much softer on your eyes.
Moreover, the red light present in this source is great for boosting flowering in plants. Studies have shown that plants produce fruits and flowers much faster and in healthy form under this light. Also, the light can be of great use at the earlier stages of a seed's germination. More specifically, this light can help in bulb development and root growth as well.
Because the board is made of aluminum, it is lightweight. You can hand the product easily. Depending on your needs, you can also make slight adjustments to the light board. With a real power consumption of only 20W, the thing also has energy-saving capabilities. So you won't have to fret about your electricity bill at the end of the month!
Pros
Can be used for a variety of plants
Aluminum construction makes the light easier to hand and adjust
Helps speed up the growth of fruits and flowers
Great for bulb development and root growth indoors
Cons
Can break easily if dropped
Verdict
Warm lights as such with red tones are considered the best veg lights. Installing this will help with fast and healthy growth. It is also flexible and easy to install, making it a great purchase for a beginner.
2. Root Farm All-Purpose LED Grow Light
When growing plants indoors, there is no other light than this Root Farm one that we would recommend. The light is designed to give you more output with less energy used. So, it will give you more power but with half the energy to pay for. Compared to all the other CFL lights in the market, this one will help reduce your costs by a lot.
No matter at what stage, the lights can help your plants grow much faster. You can even use the light from seed to full growth. It's beneficial even when a plant is blooming flowers and fruits.
The 45watt grow light has gained wild popularity and is being used by a lot of harvesters all over the country. Use the lights for any kind of plant. As your plant grows, the lights adapt to the changes automatically.
For ease of setup, there are legs on the lights that you can adjust according to your needs. The feature is great for hydro plants or smaller indoor plants. But for a larger plant, you can also hang the lights from the ceiling.
Pros
Can be used from plants seeding to harvesting stage
Adapts to changes as the plants grow
Comes with leg stands and can be hung as well
45watt LED lights that can cut your energy/electricity costs by half
Cons
The power adapter is not durable
Hard to find a replacement power adapter
Verdict
The great thing about this light is that you can hang it and also put it on a stand. So you will be able to use it throughout the entire lifetime of a plant. Just one light frame can get you through a long time, so cost-wise, this is a great investment.
3. iPower 600 Watt Vegetative Grow Light Bulb
Lights are added to a greenhouse or indoor garden for speedy growth and also better health. The iPower Grow light bulb is a great way to make your plants healthy naturally. Now the special thing about this is that the light is produced with a mixture of metals and halogens. Metal halides and vaporized mercury go through an electronic arc to produce this favorable light.
What you get from the concoction is a wider spectrum of wavelengths in the light. With stronger light penetration and shorter wavelength, the LED light helps boost the plant's quality of life.
If you are more concerned about vegetative growth in your garden, this is the product you need. The light board has a blue and violet spectrum that helps elevate growth. High PAR rates have been added in the lights specifically for this purpose.
Internal gears made from metal and plated steel help make the product more durable. Because this thing hangs from a rope made with braided polypropylene, there is no risk of the light falling off the ceiling.
All the setup weighs about 150-300 pounds at max. Even though this setup is lighter than a lot of the lights in the market, the hooks are made with steel that has a zinc coating. Better to be safe than sorry!

Pros
Metal construction makes the setup more durable
Does not get rust
While set up weighs about 150-300 pounds
Comes with zinc-coated steel hooks and braided polypropylene rope
Violet and blue spectrum to elevate vegetative growth
Cons
Bulbs need to be replaced quite frequently
Verdict
It's safe to conclude that this light has been made with great technology and science. Buying the product could be of great use for your plants. You might have to change the bulbs quite a few times, but this tiny concern is nothing compared to the benefits you get.
4. LightWise T5 HO Fluorescent Grow Light Bulbs
Producing an amazing 5000 lumens each, these are the best t5 bulbs for veg stage. Statistically, this is 2 times the output of the typical t5 bulbs that are available in the market. The bloom spectrum in this light replicated the harvest sunlight spectrum. Because of the admirable replication, your plants' budding, harvesting, and flowering stage are triggered rapidly.
Using the T5 bulb will give you lush green plants that are healthy and strong as well. Building such immunity is great for plants to prevent and fight bacterial infestations. With a 20000 hours lifespan, you won't have to replace this one for a long time. It's no less than any high-intensity light bulbs in the market. Even as time passes, the light will only lose about 8-10% of its brightness.
Another great thing about the light source is that it works great on cuttings as well. So if you are a gardener who is into cloning or seed starting, you will love this light. Man-made light sources are rarely so effective.
Pros
Produces 5000 lumens each
Replicated the harvest sunlight spectrum to help boost flower and buds blooming
Great for growing plants from cuttings and seeds
More than 20000 hours of lifespan
Only 8-10% depreciation of lumens even with long term usage
Cons
Lights have broken in the past during shipping
Verdict
If you're lucky with the shipping process, these lights are a great investment if you love growing your own plants from cuttings. With 5000 lumens produced in each LED, this is one of the brightest lights on our list!
5. Osunby LED Dimmable Grow Light
It's not necessary for the light that you buy for your plants to be super bright at all times. As a matter of fact, plants need the light a bit dim at times.
Osunby LED growth light allows you to dim the lights. There is a range of 0-100% that you can set the light's brightness at. Adjust the light according to the growth stage your plant is at. No need to buy dimmer lights.
When at a dimmer setting, you also save a few bucks on your electricity bill!
There are 289pieces of LED chips on this board. 212 of them are red LEDs, and the rest of the 77 are blue. The benefit of having a light with such a setting is that it costs you way less than any 150w HPS/MH lights. In fact, the Osunby one is only 45W! Users have gotten great results with the light when used on baby plants. The growth rate is much faster, with no signs of bacterial growth or infections.
Cased in aluminum housing, the lights are protected from water, mists, and even fog. Upgraded handing makes the installation process much easier for beginners.
Pros
Has a 0-100% brightness setting
Improved handing kit to ease the assembly process
Works great on baby plants for growth
Costs less than most 159W HPS/MH LED lights
Cons
Plants might die if the light is not set to the right brightness level
Verdict
Adding the capability to adjust your lights is a great thing for your plants. But do keep in mind that the brightness needs to be set carefully. Or else, this feature might result in more harm than any good. You might be interested to check our latest article on grow lights for african violets.
FAQs – Light for Plant Growth
What color light is best for plant growth?
Most growers do not give much importance to the color of the light they are using. But this is a very crucial part. If you want your plant to grow healthy, then you definitely should not overlook this point. The color of light which is best for you depends on the type of plant you want to grow. This effect that the color of light has on plants is more noticeable with less intensive light.

However, there is no specific rule that you have to use a certain color of light. Professionals often customize their light to get the maximum benefit. However, it has been seen that blue and red colored lights have more effect on plant growth.
What are the best nutrients for the vegetative stage?
For your plant to have healthy growth, you need to use fertilizer. The fertilizers contain nutrients that add to the growth of the plants. It is very good to use fertilizers on your plants. However, there is a catch. Your fertilizer should have the nutrients in proper amounts. It should contain more nitrogen, minimum phosphorus, and enough potassium. The ratio should be 9:4:5.
When does the vegetative stage start?
As a planter, you need to understand when the vegetative stage starts. That is the first most crucial thing that you need to understand. Without this, you might start; however, you will not be successful at growing them. The stage starts as soon as a small leaf comes out of the seed. This is called the Cotyledon stage.
Then soon after, you will notice that the seedling is growing a bit from the soil. This can take up to 2-3 days. Finally, when the plant has grown to have enough distance from the soil, then it will start having leaves.
How much light is in the vegetative stage?
At the vegetative stage, some growers prefer lighting it for more than 24 hours. Some prefer a 14-hour cycle, and some prefer 16 hours. It depends on a natural daylight time according to the place you want to plant. Records show that it is enough to light the plant for 18-20 hours a day.
Final Words
Making the right choice when it comes to LED lights for vegetation can be tough at times. We hope our list of reviews for the best LED light for vegetative growth helps you make the right choice. So get your hands on the right LED light and watch your indoor garden expand.