Natural sunlight is always the best option for growing herbs, but it might not be available for indoor plants and especially during the winter months.
Here comes LED grow lights that offer the perfect solution. That said, not every LED light will be helpful in aiding your herb's growth. You gotta choose carefully so that you get the optimum result.
To help you out, we went through countless models and judged them based on efficiency, size, durability, convenience features, and types to find the best LED grow lights for herbs.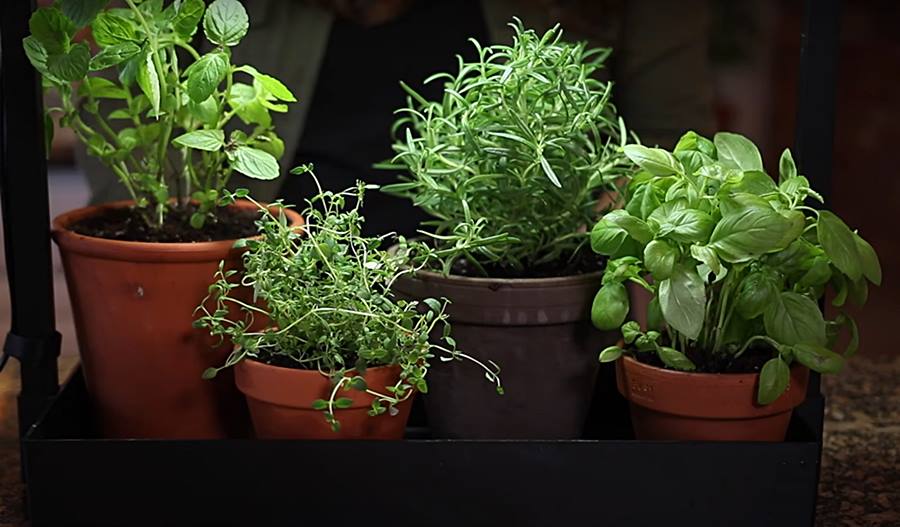 Here, we evaluated them and talked about their strong and weak points, and made relevant recommendations to help you pick the exact option for your needs.
So, let's dig in!
Here are Our Top Picks of the Best Grow Lights for Herbs :
5 Best Artificial Grow Lights for Herbs Reviews
The best grow lights can perfectly mimic the exposure to the sunlight and reduce the loss throughout the season. So here are our top picks for the top five LED grow lights for herbs in 2021:
1. TORCHSTAR LED Light Kit for Herbs
For the first entry on our list, we bring you the TORCHSTAR plant grow LED light kit. The included 21 high-quality LED bulbs ensure that the plants get enough light for continuing photosynthesis in artificial conditions.
In addition, they come with a 4000K temperature for a cool white glow that is great for blooming, flowering, and other biological activities. This light is an excellent option for small plants like cilantro, sweetgrass, oregano, succulents, tomatoes and so much more.
The best feature about this grow light is its smart timer functionality, which automatically ensures that the plants remain in light for up to 16 hours. It's great for imitating the natural light condition of the sun without the need for manual operations.
It is also effortless to install; you don't need any screws of other complex material to set up the whole thing. The durable plastic material ensures the light stays in place for a very long time.
Pros
● Included 21 LED bulb ensures enough light for all types of plant
● 4000K cool light is excellent for photosynthesis, blooming, flowering, etc.
● Innovative time feature for automatic turn on and off
● Easy to install, doesn't need any screws or complex tools
● Made out of durable plastic material
Cons
● Doesn't provide flexibility with timer and light intensity
Verdict
With the added 21 LED bulb with a smart timer, toolless installation, and intelligent time feature, the TORCHSTAR grow light easily gets our recommendation.
2. EZORKAS 9 Dimmable Levels Grow Light
For the second entry on our list, we bring you the EZORKAS grow light, which promises to offer high-quality and dependable light for microgreens, herbs & vegetables. This LED setup comes with nine dimmable levels of light with a three-mode timing function.
The light can be set to turn on automatically on and off every day. Because of the timing function, you can select your desired time and duration, and the grow light will do the rest for you.
It has 48 lamp chips, of which 32 are red and 16 are blue. The red light comes in at 660nm, while the blue light comes in at 460nm. These lights are measured and set scientifically to get the most optimal plant growth possible.
The grow light also comes with high-energy efficiency features, offering you the perfect balance between quality, low costs, and safety.
Pros
● Comes with an auto turn on and off feature
● Contains 48 lamps chips with blue and red light combination
● Nine dimmable levels of light with three separate timing mode
● Highly energy-efficient LED light chips
● Perfect for indoor garden and potted plants
Cons
● Power supply gets hot in extended use
Verdict
With its efficient nine-level LED chips with scientifically accurate wavelengths for providing the most optimal growth options for plants, the EZORKAS grow light gets our recommendation in flying colors.
3. Juhefa UV LED Plant Lights for Indoor Plants
The UV LED plant light is perfect for use in both indoor small plants and hydroponics. This light shines when you use it as a supplemental side panel during the blooming, raising the blooming rate by a significant margin.
It is a full spectrum growing light since it comes with 75 high-powered LED chips. Among those 75 LEDs- 47 are red, 19 are blue, and the rest are UV and white lights.
This unit is straightforward to set up, coming with plug-and-play features. It's also easier to assemble and disassemble. And best of all, it is very durable and long-lasting. The lighting covers around 3.6 square feet of area and should be placed approximately 10 feet above the herbs.
What makes this grow light even more practical is its efficiency. Since LED lights are used to power it, the overall price of setting up is meager, and it costs around three dollars per 12 hours.
If you're planning to invest some money to grow some small plants, this is a pretty standard cost. In addition, the lifetime of the grow light is rated around 30,000 hours, so you'll get a lot of use out of them.
Pros
● Comes with 75 high powered LED lights
● Very easy to set up and use
● Extremely energy-efficient and durable
● Lifetime is rated around 30,000 hours
● Provides excellent support as side panel during the blooming season
Cons
● Lights might be dimmer than the competition
Verdict
The UV LED plant light ranks up in our judgment for home plants with its durable and easy-to-set-up lamps and long lifetime.
4. Relassy Sunlike Full Spectrum Grow Light
If you're worried about your home plants not getting enough sunlight, growing light could be a great option. It delivers the full spectrum of light which ranges from 380nm to 800nm, that perfectly simulates natural sunlight.
As a result, it is excellent for promoting blooming, photosynthesis, or fruiting while staying inside the house. This grow-light delivers a full spectrum of light to the plants, unlike the other, which only provides red and blue light for growth. In addition, it contains a CREE COB LED, which comes with multiple layers of reflector for covering more light.
Moreover, the heat dissipation design ensures that your indoor plants get enough sunlight without losing any brightness while using the grow light for long periods.
Different trees have different sunlight requirements; that's why the Relassy comes with four dimmable light levels for the perfect brightness requirement. It's also relatively easy to set up and comes with 360 rotation features.
However, the best feature is undoubtedly its auto turn-on ability, making sure you don't have to turn on the light every day manually. Instead, just set the time and level of brightness for a set time, and you're good to go.
Pros
● Provides a full spectrum of light from 380 to 800nm wavelength
● Comes with a CREE COB LED with multiple layers of a reflector
● Heat dissipation design offers extended usage
● Four different brightness levels
● Auto turn-on feature
Cons
● Lifespan is lower than the competition
Verdict
The best feature about this grow light is its full spectrum coverage which is excellent for producing different plants. So along with the features like auto turn-on and heat dissipation design, the Relassy grow light makes it to our choice list.
5. Ankace Red Blue Spectrum Indoor Grow Lights
If you're looking for a great grow light with a particular wavelength to cover, the Ankace grow light might be worth considering. This light comes with a target wavelength for plants which ensures they get the optimal light for growth.
In addition, the included 12 blue light is excellent for providing more energy for photosynthesis. At the same time, it has 24 red built-in LED chips to help significantly in flowering, germination, and blooming.
The growth light comes with three timer options that offer up to 12 hours of continuous light. A one-way timer ensures the plants can get an adequate amount of light every day without the hassle of manually turning it on every day.
In addition, for different plant types, the light comes with five different dimmable modes to suit their optimal growth.
The 360-degree adjustable gooseneck ensures that your plant gets proper light in any orientation with a broader range of emission areas.
It is excellent for use in indoor settings, hydroponic greenhouses, and during those winter seasons. For potted plants like parsley, mint, and indoor foliages, this one is a great choice.
Pros
● Included 36 LED lights are significant for photosynthesis, blooming, and flowering
● Comes with three-time options for up to 12 hours of lights
● Five different dimmer levels for other plants
● Included 360 degrees gooseneck is excellent for covering large areas
● Easy to use and assemble
Cons
● Durability is questionable, and it doesn't last for very long
Verdict
With the included 36 LED lights, three different timers, and 360-degree gooseneck, we think that the Ankace can be a good fit as your next grow-light.
How to Grow Herbs Indoors
An indoor herb is relatively easy to grow indoors if you know the process, which is pretty easy to understand. Here are some essential steps that you should know about while learning how to grow herbs indoors with artificial light.
Checking the Plants Beforehand
Before you start growing the plant in an indoor condition, you're far better off if you check and double-check the status and health of the plant beforehand. For example, look for any dead leaves of brown spots in the plant, any wilted parts, and check the plant's age.
Some plants are better suited in indoor conditions than others. If you're new to this field, then you're better off starting with something like basil, sage, succulents, rosemary, etc.
Determining the Correct Lighting Setup
If you're looking to grow a plant indoors, you need to know about the amount of lighting, and the time it might need. For herbs, they need at least six hours of sunlight per day for optimal growth. Depending on the season, it might get longer or shorter, so study the plant well.
Setting the Appropriate Temperature
If you use a grow light, keep it around six to nine inches above the plant for optimal growth. You also want the temperature to be around 25 degrees Celcius.
Choosing the Right Type of Soil
The type of soil you use is significant for the plant. One of the most used soil types for home plants is sand, one part humus, and one part soil.
Ensuring Proper Drainage
Proper drainage is essential, especially for indoor plants. As the plants stay primarily on a fixed pot, they are more susceptible to overwatering than others. If the soil seems too dry to touch, consider watering your plants.
Applying Fertilizer and Insecticides
Unlike garden herbs, you need constant fertilizers for potted plants. Instead, use fish or bone emulsion about once a month. Insecticidal soap is also a good choice for keeping your head free from pests.
FAQs – Growing Herbs Indoor
How many hours of artificial light do herbs need?
Herbs need around 6 to 12 hours of artificial light every day, according to the weather.
What color LED lights for herbs?
Usually, the best LED light is the one that covers all the frequencies of the sunlight, which are primarily white. But red and blue LED lights are also used frequently.
How many lumens do you need to grow herbs indoors?
The optimal lumens for growing herbs indoor is around 7500 lumens per square foot of land. But, of course, you can go for less depending on the type of herbs you're growing and their requirements.
Can basil grow with artificial light?
You can use artificial grow light for basil, but you need to provide it with at least 10 hours of light every day for optimal growth.
Final Words
With artificial grow light, indoor plants can grow optimally without the need for constant sunlight. In addition, most of the grow lights are pretty cheap and require very little power and electricity to work correctly.
Our overall recommendation for the best grow light goes to Relassy 75w sunlike full spectrum indoor grow light, but you can't go wrong with any of them. Now that you know about the best LED grow lights for herbs, you can start planting your favorite plants without worrying about sunlight anymore. Happy gardening!