Indoor growing consumes a lot of energy compared to a standard household. Vegetables, cannabis, and fruits plants require lightings, water, ventilation, and weather-controlled growing conditions for photosynthesis and healthy growth.
However, these climate control setups and grow lights are powerful, and they tend to consume much more energy. On average, indoor cannabis growing needs about ten times more energy than the amount of energy used by an average office building.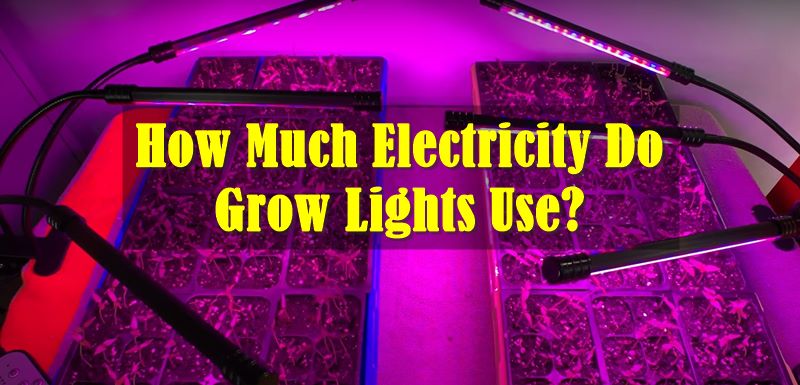 Calculating Grow Light Power Consumption
Calculating how much electricity a grow light uses is simple but confusing when considering things such as power factor correction, ballast factor, and power conversion efficiency of grow lights used in your indoor garden. However, the two major pieces of information you need to gather are:
The actual light wattage
The number of hours your grow lighting is running per day
The basic unit of measuring electric power is the watt. But since the number of watts measured over some time may add up to tens of thousands, energy usage is measured in kilowatt-hours. 1,000 watts is equal to one kilowatt (1kW). That means, for 1kWh of electrical energy to be consumed, one kilowatt of electricity must have been flowing for one hour.
Take your compact fluorescent lamp (CFL), for instance –
On average, a single CFL light bulb can be around 14 watts. When you calculate the kilowatt-hours (kWh) the bulb uses and factor in an electricity rate of 0.10/kWh, it will cost around $ 6.13 to operate that compact fluorescent bulb for 12 hours a day.
Consider a 1200w LED grow light with a 4ft * 4ft footprint for an indoor grow garden. It will cost around $525.66 to operate this 1200w LED lamp for 12 hours a day using the same electricity rate.
The usage cost for this artificial light is more than 85 times higher compared to regular light. It is vital to note that this increase in cost is from one LED grow light. Indoor growing needs a lot of more energy-consuming devices to help plants produce healthy and optimal yields.
Tips for Lowering Your Grow Room Electricity Cost
The amount of electricity needed for indoor growing can lead to huge energy consumption and expensive bills. When lights are turned on, your HVAC setups will turn on to try and reduce the radiant heat from these grow lights. This battle can be expensive.
However, while lighting, climate control, and HVAC setups are the largest energy consumers, there are ways to reduce their electricity consumption.
Read More: How Many Solar Panels To Run Grow Light?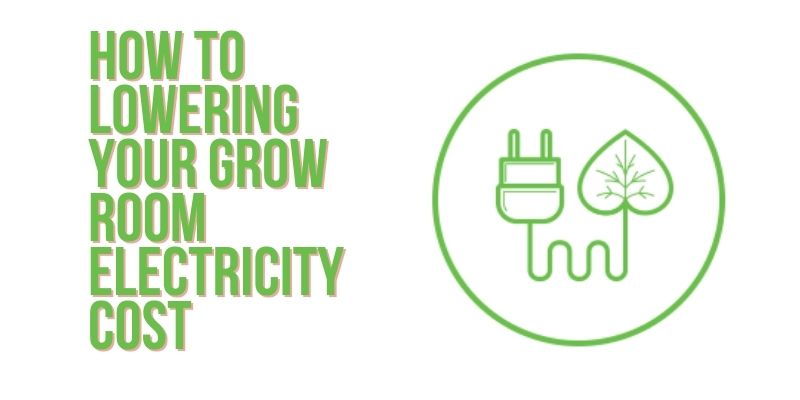 1. Audit Energy Usage
The first essential step to reducing electricity consumption is measuring the actual amount of electricity you use to grow cannabis, fruits, or vegetables.
2. Determine the Watt-Hours Used in a Day
To determine the watt-hours each lighting source uses per day, multiply the lamp's wattage by the number of hours you operate it every day.
For instance, if your LED grow light is 3000w, and you run it for two hours, it consumes 6000 watt-hours per day.
3. Convert Your Lightings' Watt-Hours to Kilowatt-Hours
Your energy expenses are going to measure your power usage in kilowatt-hours (kWh). Therefore, you will need to divide the watt-hours you worked out in the previous step by 1000.
The grow light from the example above would consume 0.8 kWh per day.
4. Determine Your Consumption Per Month
Once you have worked out the number of kilowatt-hours your grow light uses each day, you require to multiply the kilowatt-hours by the number of days in the month indicated on your energy bill. That can help you figure out how much energy these LED bulbs consumed that month.
If, for instance, you were calculating energy usage for May, the lighting would be using 24.8 kWh for that month.
5. Multiply That Number by Your Electric Rate
Once you have summed up the monthly kWh usage for all of your equipment, you can either deduct that amount from the total energy used on your bill or multiply this number by your electric rate. The results will show you how much energy your growing operation is consuming and how much that usage is costing you.
When you know how much energy you are using, you will understand your standard usage for your indoor production. You can then determine whether it is too high and look for means to make adjustments and reduce your electric bill when growing.
6. Choose Energy-Efficient Grow Lights
Providing low energy consumption, low heat, and color-optimized growth, LED lightings is the most effective and efficient for growing plants indoors than incandescent lights or fluorescent lamps.
LED Grow Lights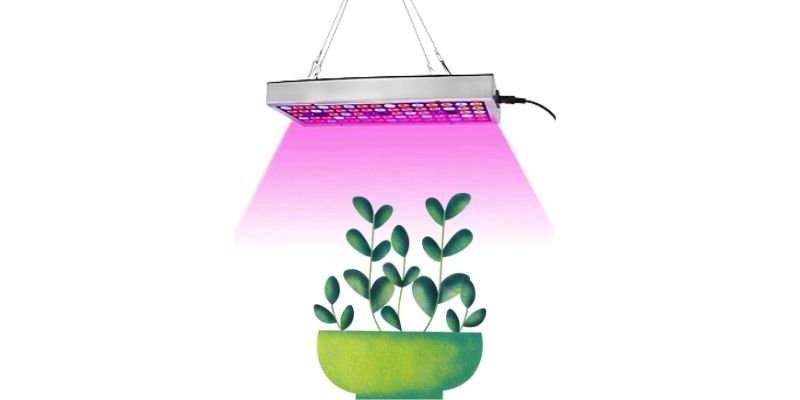 If you want to lower the amount of energy you require for your indoor growing, consider looking for energy-efficient LED grow lights. LED lights can give you the same light intensity as high-wattage HID lights while producing less heat.
Less heat means you may not have to run many cooling and ventilation systems to keep your indoor garden cool. In turn, this means you will reduce your energy usage rate.
Calculate the amount of energy your current grow lights require to run and determine which LED grow light will be a perfect fit for your grow room and budget. Switching from HID bulbs to LED grow lighting is the best way to reduce your electric bill.
CMH Grow Lights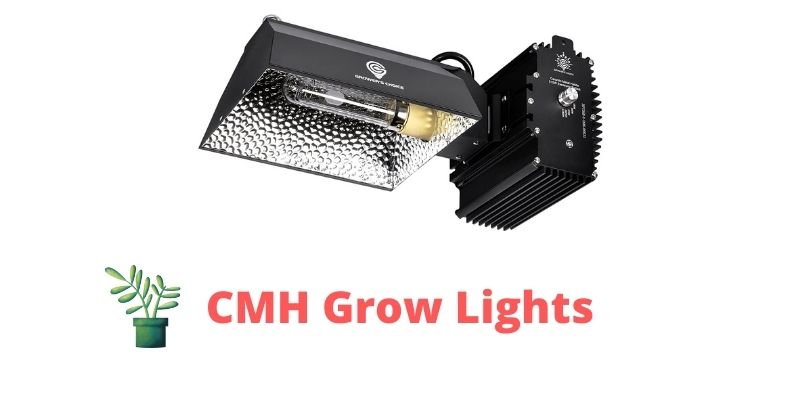 CMH lamps are more expensive than standard MH bulbs, but they consume less energy, which means you will have a reduced electric bill. CMH lights produce more PAR light in terms of watts, which is the measurement of light used during photosynthesis than MH lamps. That means a 315 watts CMH bulb, for instance, can give you the same light intensity a 600 watts MH light will give.
7. Determine How Much You Want to Grow
Once you have determined the amount of energy consumed by your grow room, you will need to determine your garden's size. It is crucial to understand how much you want to grow.
If you have had a few successful grows, ask yourself whether you need as many crops as you are currently growing. If not, think of how you can reduce your garden size.
Reduced planting means fewer cooling and lighting systems. Growing four plants, for instance, means you would use less energy compared to when growing ten plants. That is because you don't need the same light output and the same number of fans.
8. Examine Your Grow Room Insulation
Another easier way to reduce your electrical bill when growing indoors is making sure your grow room is well-insulated and factor in what is perfect for it.
For instance, heat is essential for the germination stage of cannabis growing, and it helps ensure your plants can survive and thrive. To give your cannabis plants the heat they require without wasting money, ensure your grow room is accurately insulated.
Insulation enhances growth and provides the humidity that helps plants survive and maintains the grow room warmth. When you overlook your insulation, you may end overworking your HVAC setup and paying extra energy bills.
Furthermore, you make sure the doors, windows, and vents in your grow room are well-insulated to prevent heat or cold air from escaping or entering your grow room, which may cause your HVAC setup to overwork than they need to. If you are using 3×3 grow tent then this grow light would be efficient for energy consumption.
9. Examine Your Airflow
Maintaining the right airflow in your grow room is essential for the plants' health. You want to make sure the temperature is right, and you need to control humidity, air circulation, and odor.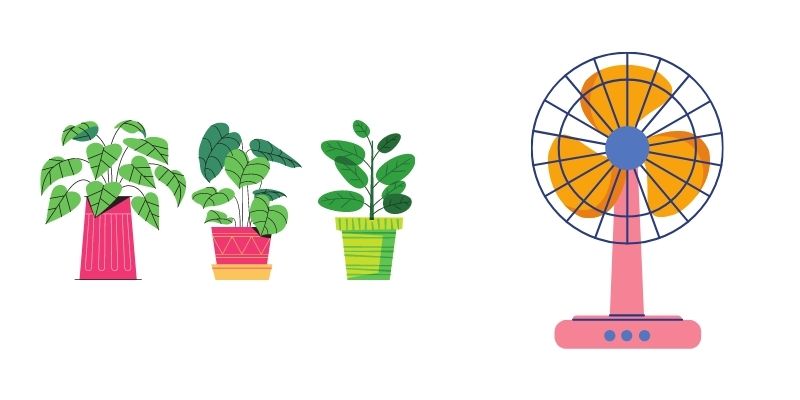 While it may seem cost-effective to use cheap fans, many of these fans can increase your electric cost. Rather than using many smaller fans, it is cost-efficient to invest in a high output fan.
For instance, if you use a tent such as the Mars Hydro Grow Tent, it is better to utilize either a 740 CFM fan or 862 CFM fan rather than four to five smaller fans. A high output fan may cost you more, but it is worth it rather than spending much on many smaller fans.
10. Select Local Genetics
Consider growing plant species adapted in your area, and that can thrive in the native environment, which requires fewer climate controls. Try finding seeds or strains optimized for your growing area so the crops can efficiently cope with the surrounding climate and temperatures.
Wrapping It Up
Selecting the right CMH or LED grow lights and exhaust fans can help you maintain the quality of your plants. Furthermore, making sure your grow garden is well-ventilated and built in a way to let out heat can help you produce healthier and quality plants since they will be able to grow at the right temperature. If you need to reduce energy costs when growing vegetables, cannabis, or fruits, consider trying out some of these tips.