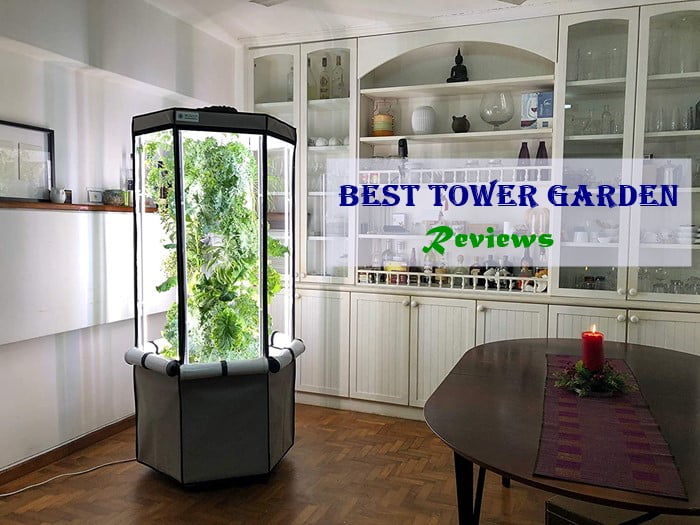 Do you feel bad about having a small backyard in which you cannot grow the plants that you love? Well, it is a problem that many of us share, and there are not enough solutions for it. But, due to advancements in horticultural sciences, tower garden innovation can be a solution for us. The vertical garden tower for indoor is mainly a system that involves a vertical system to grow plants. It conserves space for you and looks extremely beautiful at the same time. Its use is simple, but its benefits are countless. Therefore, we should learn about this option, and adapt it to fulfill our passion for growing plants at home.
Our Top Picks of the Best Vertical Tower Garden:
Aerospring Indoor Hydroponic Tower Garden
OPCOM Vertical Hydroponic Tower Garden System
3 Tier Stackable Vertical Tower Garden
Mr. Stacky 5-Tier Strawberry Planter Pot 
EMSCO Stackable Flower Tower Garden
Stackable Planter Vertical Garden Tower
Best Vertical Tower Garden Reviews
Here we will share complete vertical indoor tower garden reviews. They are of different types and available online. You can go through their details to eventually choose the best one for your home. You will also be able to get buying guidelines, and answers to questions that might pop in your head. But first, let us start with the review.
1. Aerospring Indoor Hydroponic System
Aerospring is the manufacturing company of this tower garden. If you go through the tower garden review, manufactured by any company, you know this system works very well. You will be able to grow all types of herbs and vegetables all around the year.
This product will help you grow enough of the amount that you can easily consume on daily basis. It is ideal for growing lettuce. Herbs and leafy greens. Here we are sharing the main features along with the pros and cons of this product. Try to go through them before you buy so that you do not face any problem.
Features
Dimensions of the tower garden are 20 x 26 x 24 inches.
The total area is 10 square feet.
The weight is almost around 64 pounds.
The material is reflective which means it is UV stabilized.
The power consumption of this product is no more than 20 watts.
You can grow more than 25 plants during every season of the year.
Pros
Very good for environment quality.
Easy to manage and maintain.
Made with durable material.
Grows multiple herbs and vegetables at one time.
Cons
Need to contact the manufacturers for warranty services.
2. OPCOM Vertical Hydroponic Growing System
OPCOM is the manufacturing company that is making this product for the last many years. If you read other vertical garden tower reviews, you will know that this one is better than every other. We are going to share some more details about this product.
Here you will come to know about the features, pros, and cons of the product. Try to keep all of them in mind before you go for buying it in the market. It will be a sure way of getting the best product that will be suitable for your needs and requirements.
Features
The dimensions of this pot are 47.2 x 13.11 x 64 inches.
The whole weight is 32 pounds.
You will get nutrient film technology (NFT) feature with this tower garden.
There is a flow hydroponic system that is very practical and easy to use.
The drainage system is made in a way that the roots get oxygenated before dying.
It contains LED lights so that you can keep your eyes on every plant growing inside.
The height and angle of the tower garden are quite adjustable.
Pros
High capacity for growing multiple plants.
Saves a lot of space and time.
Completely a hydroponic system.
Comes with a starter grow kit.
Smart growth system.
Easy to grow at home.
Minimal maintenance requirements.
Cons
You have to contact the manufacturing g company for warranty details.
3. Tier Stackable Vertical Tower Garden 
You can also say that it is among the list of true garden towers available in the market right now. It is made to grow plants that a person likes to use daily. Herbs and lettuce-like plants are most commonly grown in this type of stack tower garden. So, there is a lot that you can grow in it.
From this review, you will get to know all features. The pros and cons are also present so that you may buy only after knowing everything about it.
Features
The dimensions of the tower garden are 12 x 12 x 18 inches.
Overall weight is 2,2 pounds.
The material with which it is made of plastic.
The main color is grey but comes in orange color as well.
The mounting type is floor standing which is quite useful and easy to handle.
Pros
Great for beginners use.
You can easily maintain it.
The quality is great, so lasts a very long time.
Very smart, simple, and efficient.
The design is very innovative and attractive.
Cons
No information is given regarding the warranty or guarantee of this tower garden.
4. Mr. Stacky 5-Tier Strawberry Planter Pot 
It is the tower garden that is made by the YP Suppliers. These manufacturers are working for so many years in this field. For them to grow a tower garden like this one is simpler in comparison to others. Keep in mind that this product requires special attention to maintain, so learn about that when you go for buying it.
In this review, you will come to know about all the features that this product contains. Along with this, you will be able to understand the pros and cons that are useful for buying purposes.
Features
The color of this tower garden is Terracotta Orange.
The dimensions range between 12 x 12 x 8 inches.
The weight is just around 3 pounds.
The mounting type is very comfortable floor standing.
Overall, the material of this tower is plastic.
Pros
Plants start to grow very quickly.
There is no soil that you need to use in the system.
The overall use of the garden is very easy.
The risk of disease, pest, and pathogen attack is very low.
It is an inexpensive option for people who like home gardening.
Include enough space to grow multiple plants.
Cons
You have to request the company for a warranty or guarantee.
5. EMSCO Stackable Flower Tower Garden
This is also like a tower garden tonic alternative that proves to be very useful. It is made for people who like to grow multiple plants at one time. This one is mainly useful for growing flowers of different types. You can plant around 9 flowers on it which is great. The growth, maintenance, and management of the whole system are extremely simple and easy.
Here we are going to share some of the specific features of the product. Along with this, you will come to know about various pros of this tower garden along with a con.
Features
The dimensions of this product are 13.88 x 13.88 x 6.5 inches.
The weight is just a little higher than 2 pounds.
The color of the system is sand.
Overall, the construction material is resin.
The mounting type of this tower garden is floor standing.
Pros
It has a very easy to use the function.
The rotating base makes every plant easy to see.
You can use it both indoors and outdoors.
The construction is very durable.
Hold multiple plants
Cons
Not enough information is given regarding the warranty of this product.
Want to know more about what grows well in a vertical garden system? This article will help you a lot.
6. Stackable Planter Vertical Garden Tower
This tower garden is just like the juice plus tower garden that is made by "Amazing Creations". No matter what age group you belong to, this product will help in growing every type of plant. It is a multiple-purpose system. You can grow plants by keeping them outside in the spring and autumn season. However, in very hot summers and cold weather, you can bring it inside. So, it is a kind of 2 in 1 growing system. It will be of great use for people who want to grow enough food at home.
By growing beautiful flowers, fruits, and vegetables, you can enjoy your gardening time. It will also conserve water and keep the environment clean and fresh. Here are some of the features, pros ad cons of the product that everyone needs to know before buying.
Features
The dimensions of this tower garden are 13.3 x 13.3 x 7.95 inches.
The color of the product is Terracotta.
The material with which it is made is food grade plastic.
Its mounting type is floor standing.
Pros
It is very easy to use.
The design is space-saving.
It is very durable.
The material is weather-resistant.
Extremely useful for beginners
Cons
There is no information about the product warranty.
How Does a Vertical Tower Garden Work?
A tower garden is made to stand tall on the roof of your home. It is a very simple setting that needs a few things to assemble and start the system. As you do it, you are ready to grow the vegetables, herbs, and fruits, that you like to eat fresh.
For making the tower garden, first of all, you have to choose a pot or bucket. The material of this pot/bucket should be such that there is no chance of rusting. You can simply buy a plastic made structure for this purpose. Also, before making it, consult the experts, and follow their recommendations. This tower garden pyramid scheme will also contain a mesh around it. You can choose any mesh size depending on how many and what type of plants you want to grow in it.
Now add the stones at the bottom. They should cover at least one-third of the bucket or pot. Above this, you may add the soil that should be loamy. It should not be purely clay or sandy because that type of soil is not useful for growing plants.
You can now start the seeding process. Choose the ones that you prefer to grow while considering the best season for them. You have to sow the seed at least 15 cm into the soil. If you have the seedling, then its depth should be even lower than seeds. This is because more depth will help the roots to establish better and stronger into the soil.
After doing this, the last step is to water the plants. You can water those plants weekly that are in shade, while those facing sunlight need watering after every two days. As soon as you set up the tower garden, it starts to function just like a normal lawn garden or backyard garden. You can add compost and other amendments according to the requirement of plants.
Just keep in mind that you have to take care of disease, pest, and pathogen attack by regular inspection. Rotate plants in a way that the tower does not attract wasps and other pests.
So, overall, the working of a tower garden is extremely simple. It might look like a major task, but when you start working on it, it becomes very easy. All you need to do is to have a professional guideline and your proper personal research about establishing this setup.
Garden Tower Vs Tower Garden
Establishing a garden is a fun activity because you can grow anything that you like. There are so many options and ideas that you can follow to set up a productive garden. So, it is your sanctuary that you can design according to your needs.
Now, there are two major options in this field. You can choose to make a tower garden or a garden tower. Wait for what? Aren't these two terms have the same meaning? No, they are different from each other.
So, what are the things that differentiate them from each other? Well, here are a few points that will explain to you how the garden tower is different from the tower garden.
In a garden tower, there is horizontal growth of plants, while in tower gardens it is vertical.
The tower garden needs a proper strategy to grow plants so that they get enough sunlight and nutrients. However, in the case of the garden tower, every plant automatically gets an equal amount of both.
The good virtical garden towers provide nutrition to the plants through compost. However, tower gardening is an aeroponic plant growing technique.
The garden towers are about 4 feet wide while the tower gardens are only 3 feet wide.
One unit to tower garden can grow approximately 20 plants at one time. While in the case of the garden tower, the horizontal gardening, you can grow up to 50 plants at a time.
How to choose the best vertical garden tower?
We all know that growing plants in a tower garden is easy and simple. You can enjoy growing them, but do you know how is that all possible? Well, it is only possible if you buy the right tower garden. Also, if you are making it yourself, then it should be done under professional assistance.
Here we will discuss a few buying guidelines for people who are looking to buy a tower garden. Other than these guidelines, these people can go through the best vertical garden tower for indoor given above. They will help them understand further which one is best to buy.
1. Usability
Ina tower garden, it is not easy to differentiate which one is your plant and which one is weed. Other than this, some plants need more sunlight while some others need less sunlight. So, all of this is quite challenging for people who are managing it. For new people who are looking forward to buying or establish one such system should know about it.
So, the buying tip for such people is that they need to spend money on the one that is usable for them. They should not face a usability problem with it. It should be at least 3 feet wide to accommodate 20 plants at one time. It will also help you see everything, therefore, there will be no chance for weeds and pests to stay.
This aspect of tower garden usability is very important to take into account while buying it. Do not rush to buy it because later on, it will cause issues for you.
2. Maintenance
Unlike other gardens, the tower gardens are tricky to manage. So, always try to buy the one that needs the least attention and minimal maintenance. You need to do the digging, weeding, and planting, so that is more than enough work to manage.
You should be able to see the soil to make sure that dirt is not collecting below the plants. You should also be able to observe the plants that might have disease symptoms. If this is done, then know that you have bought the best tower garden ever.
When you can maintain it regularly, it automatically becomes an easy system to manage. So, take great care of this aspect when you go for buying this product.
3. Safety Aspect
You have to buy the one that you can keep out of the reach of children. It can harm them, and more than that, they can harm the system. Other than this, there is a plug that comes with it. So, check that carefully because you have to turn it on and off regularly. Its built should be good enough to keep you safe from shocks or other problems.
The tower garden you buy must be strong enough to handle the windy, snowy, and rainy days. It should be safe from any damage during harsh seasons. Even some structures get rust, so try to buy the one that is safe from these problems.
FAQ
1. Is aeroponic and tower garden the same?
A tower garden system and aeroponic are the same. The tower garden uses the main technology that is aeroponics, so we can say that they are the same. In this system, you can grow plants in the air and it does not require any soil. This system is known as the best one for growing plants without the need for nutrients, moisture, and oxygen.
2. Do you think that the tower garden produces organic plants?
Well, a tower garden is different from organic produce. You have to use the amendments of natural sources for the organic gardening system. However, in the case of the tower garden, water, oxygen, and the pure form of mineral nutrients are added.
3. How to construct a tower garden?
The tower garden requires you to select plastic grade plastic. This free from BPA and UV stable. The material is opaque due to which the growth of algae and other organisms is not possible. Your tower will require around mesh around it to keep it strong. If you successfully establish it, it will ensure that you will get food from it for a very long time.
4. What is the ideal dimension of a tower garden?
The dimensions of the tower garden include 30″ x 30″. But you can change it according to your needs, so try to choose the one that is best suitable for you.
5. Can I buy a tower garden?
Well, you can make it at home. But you can also buy it from the local market. Some companies even ship them from one region to another, so you can search them online as well. Make sure that you buy from a credible source so that you do not face problems. Try to ask them every specification and mention your reservations. Also, get the warranty or guarantee documents to make sure that you get the returns.
Conclusion
If you go through the best vertical garden tower reviews above, you will realize that it is the most environmentally friendly technology. It helps you grow whatever type of vegetable, herb, or fruit that you like. We are mentioning the complete list of most popular towers right now. So, go through them, and search for more to get the ideal one that suits your requirements.