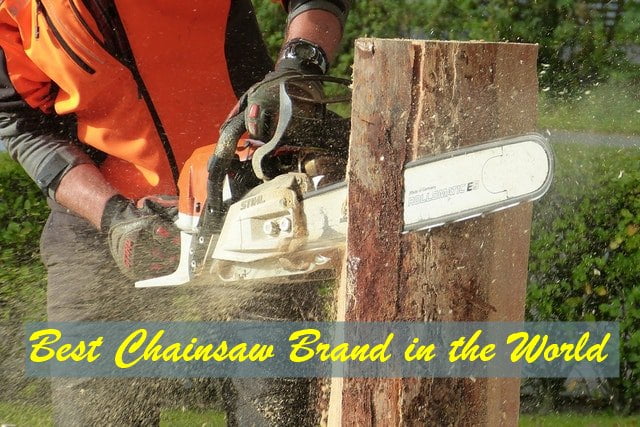 If you're going to get your first chainsaw? Or going to replace your previous one with a new one. Then, a common question would be rolling over your mind that Who makes the best chainsaw in the world?
Because there are hundreds of products in the market and dozens of brands. So, choosing a perfect chainsaw would be a challenging task especially when you're buying the first time. However, every manufacturer tries to provide maximum features within a single item.
But there are a few companies that have won the public's trust by providing high-quality material for many decades.
What is a Chainsaw?
Before knowing about Who makes the best chainsaw in the world? We have to know what a chainsaw is and how a chainsaw works? A chainsaw is a piece of machinery that loves to eat trees. It works by cutting down wooden objects perfectly through its teeth in a circular motion.
Moreover, a chainsaw operates through an engine that could run smoothly on gasoline, battery, or electricity.
An engine is the most important component of a chainsaw. Without an operating engine, the chainsaw would be like a physical saw that only drains the energy of the user.
However, it also has a carburetor that moves the chain and blade in a circular motion. It also includes a drive mechanism, cutting chain, and chain brake.
How does a chainsaw work?
Let's know step by step how a chainsaw works.
A chainsaw works by converting chemical energy to mechanical energy.
Providing power to all parts of the chainsaw is the major function of the engine
The role of a carburetor is to fuse air and fuel in the tank.
Then, the carburetor passes this mixture to the cylinder.
The mixture is ignited by a plug that provides energy to move the piston forward and backward. This step follows a two-stroke push and pulls action.
This back and forth action convert to circular motion by rod and crank.
A connecting shaft shifts all power to the centrifugal clutch.
At higher-speed, the centrifugal clutch will connect the engine to the chain.
But at a lower speed, the clutch stops the chain from spinning
Now, gears have the duty to supply power to the sprocket.
Consequently, the chain around the metal bar will cut wood sharply.
Who makes the best chainsaw in the world?
Who makes the best chainsaw in the world? However, it's quite difficult to answer this question because of an increased level of competition. But after thorough research and survey, we got mixed responses regarding the top chainsaw users. So, we end up choosing the leading brand of the era that is serving for decades.
Stihl is providing people with all powerful features to tackle their projects quickly. But what makes Stihl the most recognizable chainsaw in the world? Here are multiple factors that contributed to the success of Stihl in the whole world:
A powerful engine
The most important segment of a chainsaw is its engine. Therefore the Stihl chainsaw has two rings piston that works effectively. Although, its clutch has non-slippery nature and also produces fewer vibrations to ensure less weariness for the user.
Working carburetors
Its working carburetors provide air and fuel to the chainsaw so it could move the blade and chain in a circular motion to cut wood. However, it's quite easy to regulate the carburetor when required.
High-speed start-up
It's quite easy to start up chainsaws within no time. Due to its powerful engine, the startup is quite easy. Moreover, the fusion of electronic ignition with a decompression valve made it easier to operate quickly.
Casing of chainsaw
The design of the casing is quite simple with tough polymer housing that enhances the longevity of the chainsaw. As well as, its sprocket cover has a smooth surface that is easily accessible for cleaning purposes.
Safety concern for public
By considering safety as a priority, Stihl chainsaws have a dual brake system that could stop chains immediately during emergency conditions. However, its rear hand and front handle are specifically designed to reduce injuries.
Moreover, it also has an automatic chain, and the bar oiler provides proper lubrication. It also has a replaceable fuel filter in the tank.
Frequently Asked Questions (FAQs)
Which one is the best chainsaw regarding durability?
The durability of the chainsaw depends upon your handling. If you're even using Stihl carelessly. Then, it would ultimately result in the malfunctioning of your chainsaw.
And if you're carefully using chainsaws with proper maintenance by changing plugs, sharpening chains, or cleaning filters. Consequently, all servicing will enhance the durability of your chainsaw whether it belongs to any other brand. If you are looking for a chainsaw for palm tree, here is a helpful guide for you.
Which one is better: Stihl or Husqvarna?
Both Stihl and Husqvarna are leading brands in the world of chainsaws. However, both are providing modifications with the passage of time to satisfy users.
Although it depends upon your choice. If you want a lightweight and powerful cutting tool. Then Stihl will provide you a list of models that would fulfill your all needs.
If you want a less expensive chainsaw with a longer warranty. Then, Husquavrna will be your helping hand.
Can I use old oil for chain lubrication?
If you're using old oil for lubrication. Then, do not use it. Because an old oil has already used its lubricating properties and may also include contaminants.
How many times do I have to service my chainsaw?
The proper maintenance of the chainsaw is also important to keep it working for a long time. You just need to service your chainsaw annually by doing it at home. Changing the filter, sharpening the chain, changing the spark plug, and grabbing all debris out of tank fuel will help you to maintain your chainsaw.
Conclusion
Hopefully, your query regarding Who makes the best chainsaw in the world is answered well. However, every product has its pros and cons. It also depends upon your property and usage. You have to consciously invest in a product that offers a longer warranty and durable material.
Moreover, Stihl introduced almost more than 30 models that include almost all types of chainsaws. Whether you want a chainsaw for a beginner or for an expert woodcutter. Stihl would accompany you through its powerful cutting tools.
Although, a lightweight chainsaw with a powerful engine will be your working partner. Now, you can easily maintain your yard or cut wood to heat up during winters by selecting an impressive chainsaw.