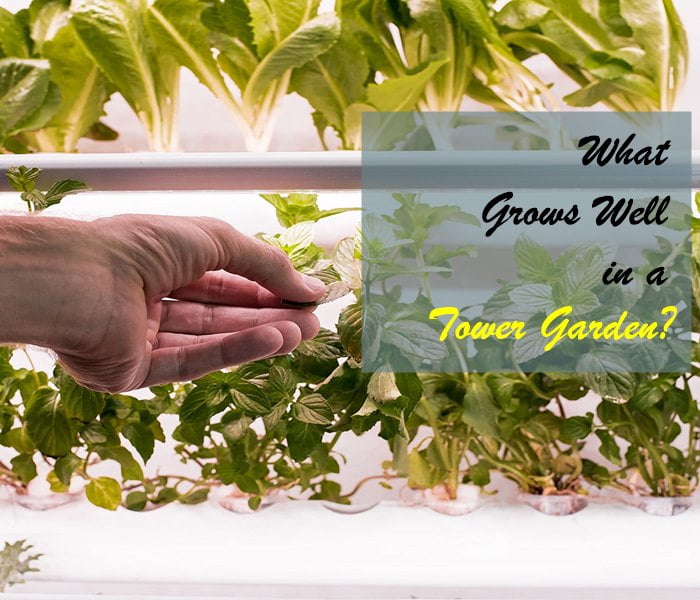 The Tower garden allows us to grow both tall and short plants. For this purpose, you can choose a variety of plants from vegetables to herbs, flowers, and fruits. According to research in this field of growing plants, one can grow more than 100 different plants in it.
The only type of plant species that we cannot grow is those that need to stay underground. These mainly include radishes, carrots, onion, potatoes, etc. So, other than these few, you can grow every type of plant in a tower garden.
What grows well in a tower garden?
Suppose you have decided to start a tower garden at home. Now you have to first understand what grows well in a tower garden, and what does not? You have to pick those that are best suitable and buy their seeds.
Here we will share a few examples of such plants that are the priority of most tower garden owners. They are favorites, so we should know about their details. Given below is the list of all of them:
1. Tomatoes
Can you imagine a garden that does not grow tomatoes in it? Well, it does not feel like a garden if you do not see the fresh red color of tomatoes growing here and there. It's all up to you which one do you like to grow. Choose from mini, gigantic, medium ones, and sow their seeds. You will see how quickly they will grow and get ready for you to harvest. See our latest article- can you grow tomatoes in a grow tent?
2. Strawberries
Strawberry is not only a favorite fruit of tower gardeners but also of every person. Their color is so refreshing and they taste very satisfying. Many tower gardeners even dedicate their whole area to growing it in the starting summer months. So, you must also try to grow it if you are into this type of gardening habit.
3. Squash
Squash is a great plant to grow in a tower garden. It is extremely delicious, so you must try to add it to your list. No matter which variety you choose, it will grow very well in the tower garden setting.
4. Pepper
Well, do you like sweet pepper or spicy pepper? Let us tell you that it is possible to grow any one of these in a tower garden. It grows extremely well and quickly. You can choose any variety. One thing to keep in mind is that it has a huge harvest. So, as long as you are ready for that, plant it in a tower garden.
5. Lettuce
If you do not know what grows well in a tower garden, then you would probably miss lettuce. It looks like an expensive option and hard to grow. However, in reality, it is quite cost-effective and quick to grow in the tower garden. Within three weeks, you will have the harvest of this plant.
6. Kale
Do you know, kale is known as a celebrity in the world of leafy vegetables? You can not imagine how easy it is to grow them in the tower garden. They need plenty of water, and they grow indefinitely. At one point, it becomes a problem to harvest all of it because it expands so much more than expected.
7. Egg Plant
Do you know there is an easy way of growing an eggplant? Well, you are right! You can grow it in the tower garden at home and get as much harvest as you want. There are multiple varieties of this plant, such as Thai, Barbarella, etc. You can choose to grow anyone that you like. It is one of the most preferred vegetables among tower gardeners.
8. Cucumber
Summers are never without cucumbers with every meal that you have in a day. It is also a good plant to grow in a tower garden because all it needs is a water supply. It grows quite quickly, so tower gardeners like to opt for this in the summer season. Also, it has a great fresh taste that makes it a favorite vegetable for everyone.
9. Chard
Chard is known to be the most nutrient-rich plant ever. Researchers also agree with the fact that it is a versatile green leafy plant. This is because you can use it to cook, decorate, or as a salad. Along with this, you can grow it in any season, so there is no such restriction that you have to follow. This plant does not bother about sunlight as it can grow indoor and outdoor easily.
10. Basil
One of the most favorite herbs that every gardener likes to grow is basil. It is equally popular among tower gardeners. This is because it has many uses in the kitchen. Along with this, it has a great aroma that refreshes your mind. The best thing about this plant is that you do not need to worry about sunlight. You can simply grow it in shade side or direct sunlight as well.
Conclusion
There are so many options when it comes to selecting a plant for a tower garden. But you have to keep in mind what you like, and what grows well in a tower garden.
Try to get in touch with some expert before you get started with building the tower because that is very tricky. You have to build it correctly so that plants could grow without any trouble. Try to get in touch with an expert before starting it so that you know about each step in detail.
After that, you have to meet the plant experts of the field to understand which one is suitable for such a setting. We are sure that our list given above would have been a great help for you to start your tower garden in the future.