A leaf blower is one of the most useful tools that you can own, especially during the autumn seasons.
Aside from helping you clean up the yard, you can also use it to clean your home's gutters, drying surfaces, or chasing away rodents. Because of this multi-functional quality, a leaf blower proves to be one handy tool for every home.
If you're new to leaf blowers or are looking to replace your old one, you're probably surprised by all the available options you have now. There are so many different types of leaf blowers that all their different features seem too intimidating.
In this article, we'll give you a run-down on these different types so that you can make the best decision before you buy one.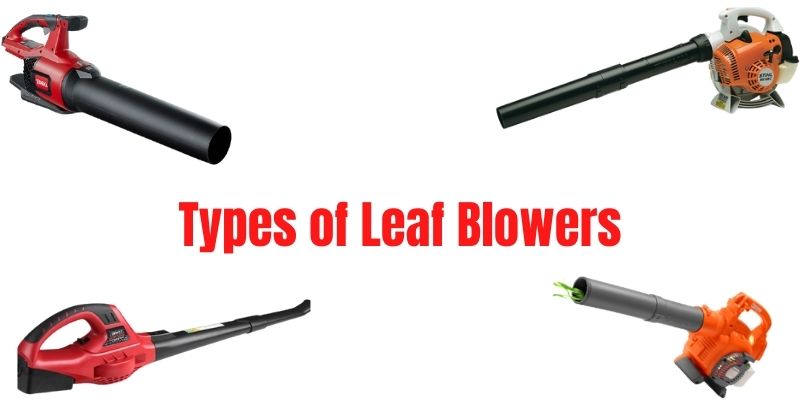 Types of Leaf Blower and Their Usage, Pros & Cons!
Leaf blowers are classified into 2 categories:
According to Carrying Type
According to Power Source
For this first part, we'll classify them according to how you carry them.
1. Handheld Leaf Blower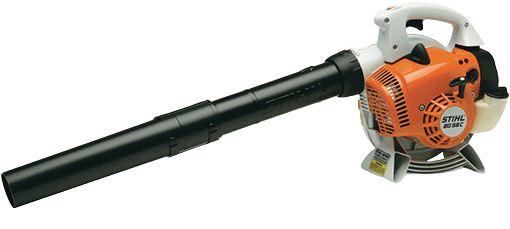 Check All Top Handheld Leaf Blower
Handheld leaf blowers are the most common when it comes to residential use. These machines are usually the lightest – weighing somewhere between 4 pounds and 15 pounds, depending on the type of engine it uses.
These are designed to be held with one hand only, allowing you to sweep your lawn or yard with ease. But even if you're only using one hand to carry and maneuver this machine, its ergonomic design makes it feel balanced as you use it.
Because of their petite nature, handheld leaf blowers often use smaller engines compared to the backpack and walk-behind counterparts. As a result, they don't exert as much power, but it's still quite decent if you're only cleaning a small residential lawn, yard, or pathway.
The only downside to owning a handheld leaf blower is that it can put a bit of strain in your arm, especially if you're using one of the heavier models. To prevent this from happening, look for one that comes with a shoulder strap and has vibration-resistant handles. This will greatly reduce the impact that your hand and arm feel so that you won't have to experience fatigue.
2. Backpack Leaf Blower
Check the Best Backpack Leaf Blowers
A more powerful type of leaf blower is backpack leaf blowers. These are heavier leaf blowers that are mounted onto a harness that you can wear on your back like a backpack. These harnesses are often padded, with similarly padded straps, to make sure that the user is comfortable while operating this machine.
Their added weight is due to the larger engine that they are using, which means that they can produce higher power compared to their handheld counterparts. And in case you're using a gas-powered backpack leaf blower, this also means that it's using a larger tank, allowing you to clear up larger areas without having to refuel frequently.
Because of their convenient and heavy-duty nature, backpack leaf blowers are often used for larger gardens, yards, lawns, and other similar areas. The only downside is that they tend to cause a strain on the shoulder when used for long periods, so make sure to take a break once in a while to reduce muscle aches.
Overall, backpack leaf blowers are both convenient and powerful, so we believe that buying one would be a great investment.
3. Walk-Behind Leaf Blower
The third type of leaf blowers is walk-behind leaf blowers or the ones with wheels attached to their tubes. Other models have mechanisms that allow them to be mounted easily on top of wheels for your convenience.
Walk-behind leaf blowers are the most powerful, allowing them to blow away heavier items at a faster pace. But because they use such powerful engines, they're also very expensive. As such, these leaf blowers are often used by professionals who need to clean up large areas in short periods.
According to Power Source
Aside from being classified according to how they are carried, leaf blowers are also classified according to their power source.
4. Electric/Corded Leaf Blower
Electric Corded leaf blowers are the ones that have to be connected to a power source to function. Because of this, they don't need a large tank to store gas in, neither do they have heavy batteries attached. This means that they are incredibly lightweight, making them easy to control and maneuver.
Additionally, they provide users with excellent air volumes and air speeds since they're continuously connected to a power source. As such, you can expect a great performance from this type of leaf blower.
However, since it has to be connected to your power supply to function, the range that you can clean is limited by the length of your cord. You have to be careful to make sure that you don't accidentally pull it out of the socket, while also trying to avoid the cord to keep you from tripping or making a mess.
5. Battery Operated Leaf Blower
One of the easiest leaf blowers to use is the battery-operated ones. These types of leaf blowers are the best for first-time owners because it doesn't require a lot of maintenance work. They're also really easy to operate, so you know you won't get lost with all the control options that are usually present in gas-operated and corded leaf blowers.
Because they run on a built-in battery, they don't rely on a power cord to fully function. This means that they're extremely portable – so you're not limited by the distance from your lawn to your nearest power socket. However, this can also mean that they cannot produce as high air speeds and air volumes as to their other counterparts.
These leaf blowers usually use heavy-duty batteries that can be quite weighty, although not as heavy as gas-powered ones. Their running time also relies so much on the juice left in the battery, so you always have to make sure that they're fully charged before using them.
Overall, battery-powered leaf blowers are the low-maintenance machines that beginners can fully operate with ease.
6. Gas Powered Leaf Blower
And finally, gas-powered leaf blowers can produce amazing air speeds and air volumes, so you know they can efficiently get the job done. They use powerful engines that run on fuel, so they can last a lot longer than battery-operated and corded leaf blowers.
However, while they are extremely powerful, there are downsides to this type of leaf blower. First, this type of leaf blower is often very loud. If you're buying a gas-powered leaf blower, make sure to check its decibel range, and to check if it has a muffler installed to reduce its loudness.
Read More: Best Gas Leaf Blowers: Reviews and Buying Guide
Also, this type of leaf blower tends to produce harmful emissions, so you have to verify if it comes with air filters to assure you that it's safe for you and the environment. And finally, they tend to be quite heavy, since they also come with large tanks to store the fuel in.
Nevertheless, gas-powered leaf blowers are perfect for those who want a high-powered machine that can efficiently and speedily clean up your area.