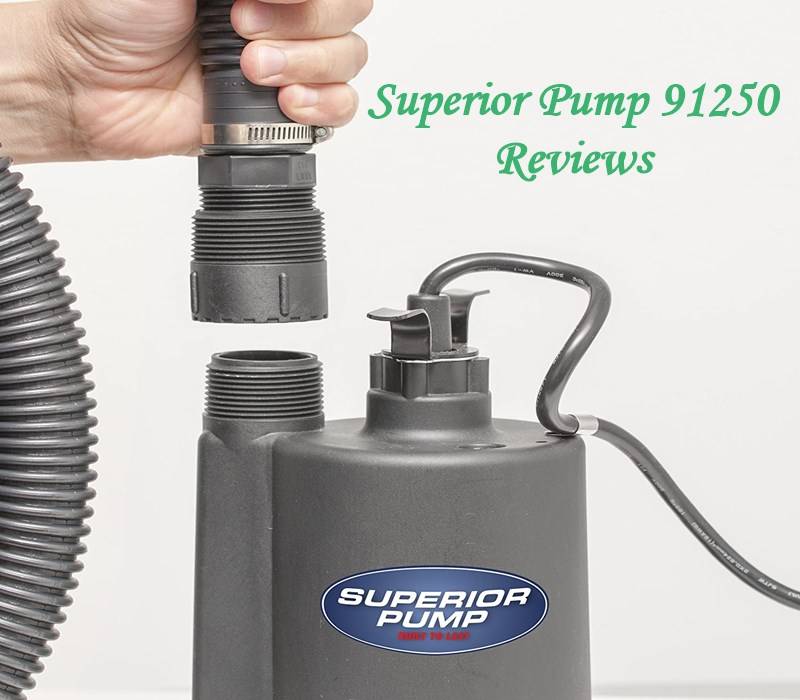 Buying a pump is a great investment these days. These machines are useful for a variety of tasks, including watering your garden, filling up your pool or tank, and can even be useful for keeping the water out in case it floods.
Given the need for a decent pump for every household, the question we often get is how to determine if the pump is perfect for your home. While this would depend on your daily water needs, the best example of an all-around household pump is the Superior Pump 91250 Utility Pump. In this article, we'll talk you through the features of this impressive submersible pump.
Superior Pump 91250 Detailed Product Review
Features
When it comes to looking for the best pump for your home, you have to look into several factors like how powerful the motor is and how far it can pump water. With these in mind, we immediately realized that the Superior Pump 91250 Utility Pump is, indeed, superior from its competitors.
Performance
This pump uses a ¼-horsepower motor that is capable of pushing water for up to 1,800 gallons per hour if you plan to fill-up something at the same height level. This means that it can pump up to 1800 GPH if it's not pushing vertically upwards. This is quite impressive since most pumps using that motor usually limit the water they can push to around 1,500 gallons per hour only.
If you have to push the water vertically upwards, it can do so for up to 25 feet high. For your reference, it can pump water at 1,200 gallons per hour even if you have to push it 10 feet vertically upwards. It can also pump water at 540 gallons per hour if you have to push it 20 feet vertically upwards.
These numbers tell us that even if you have a pool or tank situated at the top of your two-storey home, this petite pump is powerful enough to do the job. And without a doubt, that is very impressive. You might want to read: best pump for the sprinkler system.
Construction
A powerful motor is nothing if the pump you own has a casing that's poorly constructed. Bear in mind that pumps will have to deal with water and high pressures, so you need one that has a durable casing to contain it all without leaking.
Fortunately, the Superior Pump 91250 Utility Pump has a strong and durable construction that can withstand corrosion. This assures you that this is a pump that can last you for years before needing any replacement.
We also want to add that this is built with a convenient handle, so transporting this pump to where you want it mounted isn't a big problem. Check out our article on the best drip irrigation system
Intake Screen
Another notable feature of this pump is its intake screen. This feature helps filter out the debris that's usually floating on the water as it enters the impeller. As a result, you don't have to worry about clogs that can cause the pump to malfunction. This also effectively prolongs your pump's life, so that's a given bonus.
The intake screen on the Superior Pump 91250 Utility Pump is easy to remove and clean. This makes the maintenance work less of a burden for you.
Multiple Discharge Hookups
If you're using your pump for different purposes, then you'd be pleased to know that this machine can be easily hooked on to a garden hose or a discharge hose – whichever you want to use it for.
Easy Installation
And finally, the Superior Pump 91250 Utility Pump is very easy to install. It is designed to be mounted on the standard 6-inch floor drain hubs, so you don't have to perform complicated plumbing jobs to get it set up and running. It also comes with a manual that's easy to follow, so you don't have to pay professionals to do the installation for you. Check out our article on Priming a Sprinkler Pump from a Lake.
Pros
It has a powerful motor that can pump up to 1,800 gallons per hour.
It is built with a durable and strong thermoplastic material.
The multiple discharge option is convenient.
The filter screen helps separate debris while also preventing possible clogging.
It is very affordable.
Cons
It is not designed to work continuously.
FAQs – Superior Pump 91250 Review
Is the Superior Pump 91250 Utility Pump expensive?
The Superior Pump 91250 Utility Pump is not expensive at all. These days, it's so rare to find a decent pump that's worth less than a hundred dollars, and it's even rarer to find one that's below 60 dollars.
Is the Superior Pump 91250 Utility Pump easy to install?
If there's another thing that the Superior Pump 91250 is also known for, it's for its ease of installation. The bottom of this pump is specially designed to fit the hub of standard 6-inch floor drains. It also comes with a simple instruction manual that will help guide you through the setup process.
Conclusion
Without a doubt, the Superior Pump 91250 Utility Pump is a superior machine that puts its competitors to shame.
Despite its affordable price tag, this household pump is capable of pumping water at a rate of up to 1,800 gallons per hour and up to 540 gallons per hour if you have to push it at 20 feet vertically upward. This shows how powerful this pump can be, so you know you can use it for a variety of functions.
It is also made with durable thermoplastic construction, so you're assured that it can stand the test of time.