Keeping plants alive and flourishing indoors is not easy. Apart from giving them adequate soil, water and you must ensure they have sufficient lighting. As you budget for grow lights, be sure that they will properly serve your garden size.
The most common question we get from new horticulturalists is how many grow lights do I need for my plants? This is a reasonable question, but it can also be difficult to answer. Because it depends on how many plants you have. How big are they? How strong is the light source? How much area do they cover? How many hours of flowering/vegetation time before harvest do you want per day?
We provided some simple math below that will give you a good idea of how many lights you need.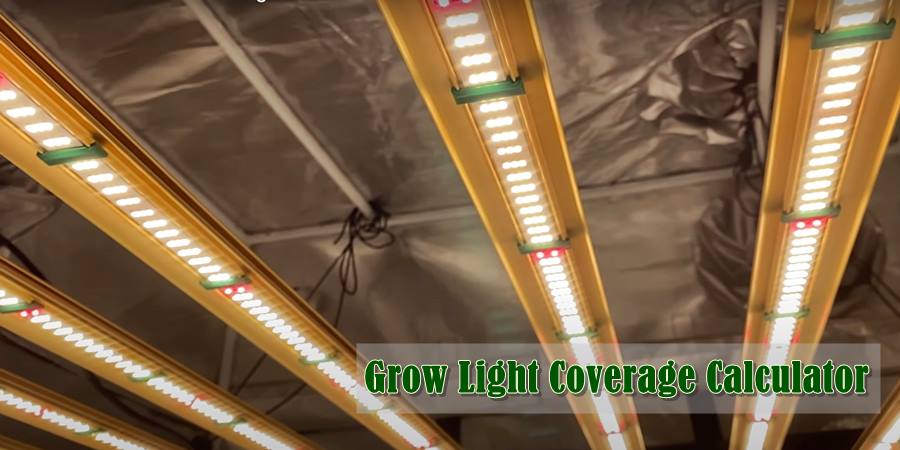 Number of Grow Lights Watts Required Per Square Foot
Wattage shows the intensity of light a grow light will produce. It is essential to approximate the LED coverage. While this method might give you the number of grow lights required over a square foot coverage, consider other factors. The accuracy of the method is dependent on the grow light beam angle and efficiency of the LEDs. Check out the right light coverage for your indoor space with these factors in place.
Vegetable growth demands 20 watts per square foot
Flowering plants demand 30 watts per square foot.
Another factor to put in place while determining the number of grow lights required in determining your lighting need is the types of plants and your growing area. The placement of grow light and its distance from plants is determined by the type of light installed and the indoor plant.
Calculating the Number of Grow Lights Needed
Before deciding the number of lights needed, plan your gardening area and the type of plants needed in the garden. There are three key pieces of information you must provide in the calculation. Lighting requirements of the specific plants you intend to grow:
Plant-light Requirement
Different plants require different amounts of light at different hours. The amount of light needed determine your garden setup. A plant that bears fruits and is flowering needs more light than those that don't. These plants include; tomatoes, fruit trees, flowers, among many others. In every square foot, these plants demand at least 40 watts. Plants that do not flower, on the other hand, require 25 -30 watts in every square foot. They include plants like herbs and lettuce.
The garden arrangement might be a bit complicated if you are growing both flowering and non-flowering plants in the same place. The best plan would be to position a high-performance plant in the same area and ensure more watts and lower performance on the other end with a different lighting system. Separate the plants with a pathway to ensure they receive the required amount of light.
Growing Area Size
The size of your growing area is measured in square feet, the length of the growing area multiplied by the width of the area and measured in feet. Do not, however, make the mistake of measuring the entire room. Measure only the size which the plants cover. The growing area is the size that will have the plants entirely. Consider the height to ensure you have adequate space depending on the height of the plants and the space above to hang the grow lights.
Once you get your growing area in square feet, the next thing will be calculating your wattage requirements. This is quite simple following the two types of plant wattage requirements above. Flowering plants need 40 watts, and non-flowering plants need 25 watts per square foot. If you consider growing tomatoes, for instance, in a 20 sq. ft., say, 5ft long by 4ft width, you will need 20 sq. ft. multiplied by 40 watts, which is 800 watts. Total watts determine the number of growing lights you will purchase.
Lighting Type
There are different grow lights in the market. Though it can be difficult to decide those to work with, fluorescent lights are the easiest to use if you have a small garden with one or two plants. For a larger garden, LED or HID is the best type. Most homeowners use LED grow lights since they are the cheapest, easiest to operate, and are used over a longer period. LED lights do not produce a lot of heat thus are more economical. Let's dive into each grow light type.
Fluorescent lights. Fluorescent lights are preferred since they consume less wattage. They come in different colors, each with different usage. White bulbs are used for flowering plants, green is used in dark times where you can see, but the plants cannot and cannot absorb any light, and full-spectrum daylight is used for seedlings and cuttings.
Another type of fluorescent bulb is compact fluorescent light. They are available at low wattage and low temperatures. In case you have limited space, like in-home residences and offices, this type is best suited. Compact fluorescent light can go as low as 6 inches close to the plant without any harm. For maximum productivity, these lights are available in different colors.
HID, High-Intensity Discharge. HIDs are quite expensive to purchase and install. They create high light levels and are extremely efficient. HID lights are made of two forms; Metal-Halide and High-Pressure Sodium. Metal Halides are more efficient in non-flowering plants since they produce blue light with a high vegetative growth effect.
On the other hand, high-pressure sodium produces an orange light highly needed by flowering plants for fruit production. This light may weaken the plants as some become spiky. They emit a high amount of heat and are best when hung slightly higher from the indoor plants. For maximum productivity, MH and HPS are used together for leafy growth and flowering.
LEDs, Light Emitting Diodes lights are much new in the market. Their popularity, however, has hit the market by storm. LED lights have extremely low electricity needs and low heat output. Like other grow lights, LED lights come in different colors, with different effects on the plants. Since they are the newest in the market, their price is slightly higher than other types, but it's expected to fall with time.
With an LED light, you don't need other lighting types. One LED is enough. It can produce both red light for flowering and blue light for leafy growth at the same time. They are a great option though you have to be very keen on the number of lights required in the gardening area. Check out our article on How Much Electricity Do Grow Lights Use?
Using the Square Footage to Calculate the Number of Lights
Depending on the grow light, the growing area will give you a good approximation of the required number of lights. High-Intensity Discharge lights, for instance, have a straightforward manufacturer recommendation on lighting needs as shown below;
1000 watts for 25 square feet
600 watts for 16 square feet
400 watts for 9 square feet
250 watts for 6.25 square feet
150 watts for 4 square feet
It is much easier to calculate the number of bulbs you need for your garden with the above information. If, for instance, your garden size is 200 square feet, you can use either 150-watt bulbs, thus 50 pieces, or use 1000 watts bulbs, thus 8 bulbs.
Using the Wattage to Calculate the Number of Grow Lights
The growing area method above is pretty straightforward. However, if you have plants that need high wattage, this method may not be accurate. You will not have adequate light for your plants. Should your plants demand less light, on the other hand, you will be supplying more light than is required and may end up damaging the crops and spending more light energy on a smaller scale.
If you were to grow tomatoes in a 200 square feet garden, you would need around 50 watts per square foot. This means to cover the 200 square feet; you would need 10,000 watts. For 1000-watt light bulbs, you would need 10 bulbs other than the former eight bulbs if using the growing area method.
Most homeowners use the wattage per square foot method to determine the number of grow lights needed. Though not the most accurate, it is the simplest way.
Using the Output Method
The output method is the most accurate but most difficult method to determine the number of grow lighting fixtures needed. The information is quite hard to get. With the right output at the edges of the light, you will provide the plant the right amount of energy it needs for maximum productivity.
Sufficient lighting is essential for healthy plants. They use the provided light for photosynthesis, a process where plants convert light, oxygen, and water into energy. This is the energy required for the plant to grow and produce seeds.
Determining the energy required to light a watt for one second gives the plant accurate light energy for growth. The plant light energy is measured in micromoles, umol/m2/s, also known as Photosynthetic Photon Flux Density. At the vegetative stage, you will need at least 300-600 umol/m2/s and at least 1000 umol/m2/s during the fruiting or blooming stage.
Conclusion
Setting up a hydroponic or organic garden is a great way to feed your family with fresh produce. An indoor garden means you are immune to changing weather conditions. It gives you an advantage over pests and diseases which attack plants. The indoor garden has its own set of challenges. The entire process has to be technologically simulated. You have to determine the intensity of light the plants require and for how long. The most common challenge among homeowners is knowing the number of grow lights needed.