With the growing love for plants at present, people are always trying to grow different and unique trees in their backyard. Just like any other plant, citrus trees are quite popular since they look attractive and can produce juicy fruits as well.
If you've decided to grow citrus trees in pots, the first thing that you'll need is the right kind of pot. But getting the best pots for citrus trees can be a difficult task, especially if you're new to gardening.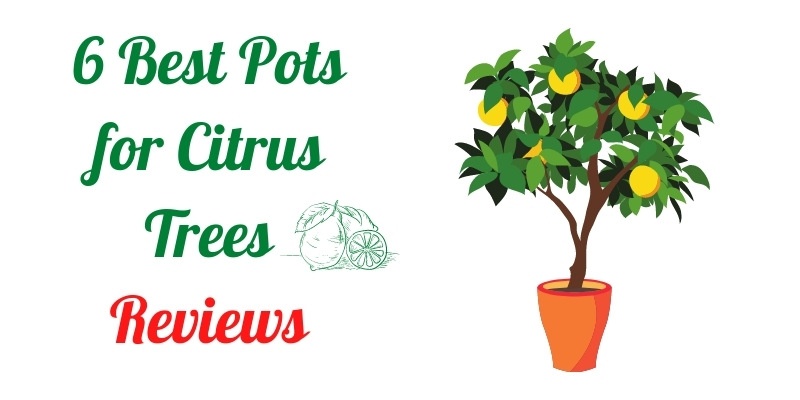 To assist you in your job, we've categorized 6 amazing pots for citrus trees that are perfect for growing in your backyard. With our detailed reviews, you'll be able to select the pot that works best for you.
6 Best Pots for Citrus Trees
Looking for the right pot for growing citrus trees under your roof? We've got you covered. Take a look at these six pots that you can get for raising citrus trees-
1. Classic Home Garden Whiskey Barrel
For our first option, we have this conical design which would be the best pot for lemon tree. The specifications and features of this pot are perfect for growing citrus trees of your desire.
With diameters of around 15″ and 9″ at the top and bottom and a height of 10.25″, this pot bears the right dimensions for growing different citrus categories. It comes in a unique color of distressed oak, which looks attractive and pleasant.
The material of the pot is a combination of high-quality resin and oak. This kind of material ensures that the pot is durable enough to withstand years of use. The exterior is completed with antique bands of rich gray to enhance the final look of the pot.
This pot is built with a UV coating that provides protection to the final color from losing its brilliance. You also get drainage holes within the pot that assists in using it out in the open.
Pros
Strong and high-quality construction ensures the quality
Solid and lustrous color looks attractive
UV coating offers color protection
Ideal for using outdoors
Cons
Might move without a proper bolt
Verdict: With so many unique features, this pot is the most suitable option for growing your citrus trees.
2. HB Services Self-Watering Aerating Planter
If you're just starting out with pots, this one would be the perfect option for you. Especially with citrus trees, this pot works best because of its structure and strong build.
Made with 100% UV stabilized polypropylene plastic, the quality of this pot is excellent. It also bears UV-resistant pigment in its construction which ensures maximum durability of the pot. With such strong material, these pots do not undergo changes under the sunlight or leak any chemicals within the soil. Here you find the best grow light for indoor citrus trees.
This pot bears wide open slats at the base that deal with maintaining airflow within the soil. With a feature like this, you can say goodbye to the worries of fungal growth and mold.
You also get a clip-on watering attachment within the bottom reservoir that helps you avoid an overflow. It also does a great job of minimizing water stains on your floor through the studs at the base of the pot.
Pros
High-quality material offers maximum longevity
UV resistant plastic eliminates the source of chemicals in the soil
Slats at the bottom prevent mold and fungal growth
Watering attachment minimizes the risk of overflow
Cons
Does not come with any user instructions
Verdict: Overall, this pot is a perfect option to start your gardening journey with. With this pot, you can obtain the perfect citrus trees for your home.
3. SAROSORA Store Large Round Watering Planter
This round pot from SAROSORA store is another amazing option that plant lovers can give a try. The overall design and solid build of the pot make it a suitable option for citrus trees.
Now, this pot has double layers, which helps in maintaining the resilience and strength of the pot. With a strong material of highly polished PP plastic, you can be assured that the quality is beyond remarkable.
The inner layer is suitable for planting, while the outer one is great for storing water. With a dual-layer like this, you can get your plants to absorb the required water and still prevent soaking excess water from rotting the roots.
This pot comprises cotton rope at the base to assist in watering the roots at a definite level. You also get a transparent window at the base of the pot that allows you to glance at the storage level of the water. All these features make it a highly suitable option for plant lovers.
Pros
Strong and durable plastic ensures vitality
Double layers offer resistance
Inner layers boost water absorption
Adequate water storage facility
Cons
Not suitable for outdoor use
Verdict: As a whole, if you're looking for a reinforced and high-quality pot for planting your citrus trees, you can give this one a go. Its excellent characteristics can actually help you in growing a citrus tree effectively.
4. VIVOSUN Premium Thickened Non-Woven Aeration Pot
This cylindrical and durable pot from VIVOSUN is one of the best options for planting your citrus trees. The features of this pot are excellent for obtaining good quality citrus fruits without any hassles.
Also, this unique pot is designed with 300g of broad nonwoven fabric. The fabric is of good quality and lasts long. Such fabric allows the pots to avoid conserving additional water. So, you can be assured that your roots can grow healthier and stronger.
This pot is equipped with handles sewn through an overlock technique that ensures strong and vital support. The strength of the bags allows easy transportation of soil and plants with no difficulty. You can use the bags for a long time due to their robustness.
Built with high-quality air circulation, the bags offer a good amount of breathability. The soil remains oxygenated thanks to the airflow within the bags. You also don't need to worry about overwatering since the drainage system is quite solid.
Pros
Thick and nonwoven fabric provides strength and resilience
Fabric material controls water retention
Strong and robust handle design
Adequate airflow ensures breathability
Cons
Might not control mold to a high level
Verdict: If you're new to gardening, you can pick this one since it's super easy and convenient to use, plus it gives the best results. So, you can definitely give this one a try!
5. Viagrow VHPP2000 Nursery Pot
We can't skip this nursery pot from Viagrow when we're talking about good choices for citrus trees. This brand has been associated with some of the most minimal and standard designs for planters.
With a solid black design and exceptional plastic material, it ticks all the boxes that a plant-lover might have in mind. The plastic is a high-quality PP material and considered BPA-free. So, you can consider it safe and highly durable.
You can use the pot with different soil types, and it will not alter the soil quality to any extent. The rim of the pot is elevated, and the body is narrow to provide the best support for the users.
This pot is quite easy to handle, and the material quality gives assurance of reusing it for years to come. It is also resistant to weather changes which is a remarkable feature for growing citrus trees.
Pros
High-quality and safe plastic ensures longevity
Material offers adaptability with soil categories
Resistant to climate alterations
Reusable and easy to maintain
Cons
Water storage facility is not well-developed
Verdict: Not everyone desires pots with advanced features and a very sophisticated outlook. There are some people who want to settle for something minimalistic and classic. This pot is the best option for those individuals.
6. Classic Home and Garden Honeysuckle Planter Patio Pot
Last but not least, we have another cool option from Classic Home and Garden. If you're someone who loves experimenting with different pots for their trees, you can pick this one for sure. Its accurate dimensions and high-quality build make it an ideal choice for citrus trees.
Built with a combination of durable ceramic, resin, and stone, you can be assured that this pot serves its purpose right. The material is lightweight, and of high density, so you don't need to worry about the quality.
With UV coating on the exterior, this pot is resistant to weather changes. So, you can use it for both indoor and outdoor purposes. The UV coating also gives protection to the color intensity, so you know that you've got the right pot with you.
As more plant lovers are emerging with unique tastes, these honeysuckle planters will suit every home. No matter what your home is styled like- modern, traditional, or something very simple- these pots will look attractive in any setting.
Pros
Durable construction assures good quality
UV coating protects the color potency
Ideal for inside and outside the home
Withstands days of use as well as seasons
Cons
Instructions might not be available
Verdict: As a matter of fact, these pots are one of the best options you can get for your citrus trees. If you're thinking of growing lemon trees in pots, you can definitely pick this one.
FAQs on Growing Citrus Tree Indoor
How big of a pot does a lemon tree need?
You will need around 4–5-gallon sized pot with dimensions of 13-15 inches in height and 8-10 inches in width for growing a lemon tree. This might vary according to the size of your lemon tree, but the measurements are approximately within this range.
How long does it take to grow a lemon tree indoors?
Depending on the care you put into them and the amount of light and water they receive, lemon trees take around a year to grow into shape fully. It might vary according to season change as well, but a year is a good time span for a lemon tree to grow.
Are eggshells good for citrus trees?
Yes, eggshells are definitely good for citrus trees since they contain a high quantity of calcium. Calcium favors citrus growth to a great deal.
Are coffee grounds good for citrus trees?
Coffee grounds have the right kind of necessary minerals that help in promoting the growth of citrus trees. They also stimulate soil acidity, which favors citrus tree growth.
Which is the best pot brand for lemon trees?
Classic Home and Garden is the best pot brand for lemon trees. Their high-quality material and added safety features make it easy to grow lemon trees. Since lemon trees require maintenance and sustainability while growing up, Classic Home and Garden pots can provide great features that will be useful for gardeners.
Final Words
Bringing it to an end, we can conclude that choosing the best pots for citrus trees should not be a difficult task for you now. Our detailed reviews will guide you to the ideal pick easily.