If you look at a list of the most popular house plants, the name Peace Lilly will almost certainly come up. Peace Lilies are popular because they are gorgeous, affordable, easy to find, and the white flowers look very charming.
Now, if you are planning to spruce up your home by getting a Peace Lilly, then you have obviously thought about how to care for it. You can start by looking for the right pot.
To help you along the journey, in today's article, we are reviewing the top candidates for the best pot for Peace Lily. Hopefully, with our guidance, you will find the one perfectly suited for your home as well as your plant.
Let's get to it, shall we?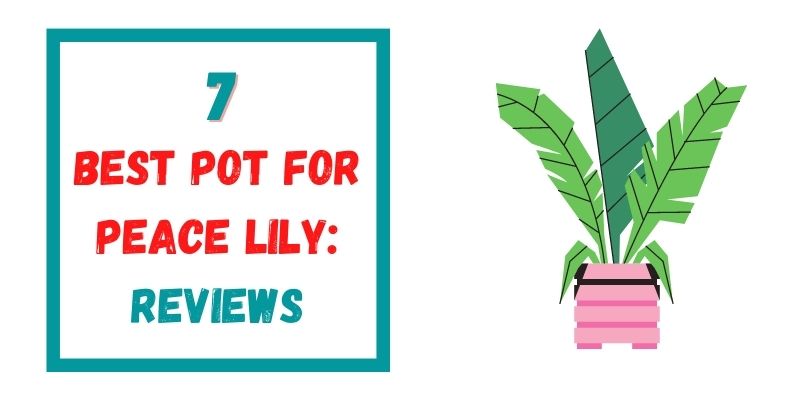 7 Best Pot for Peace Lily in 2021
Peace Lily plants are very easy to care for as far as house plants go. With the perfect pot and few instructions, you can make your home look much better. First, though, let's see some good pots for them.
1. Fivoli Home 6 Inch Ceramic Pot
First up, we have something we would gladly call the best flower pot for Peace Lily. It comes in three colors– nude, grey, and white. These colors are accompanied by a hand-polished glaze as well as a matching saucer.
If you have pets or kids at home, you'll be happy to know that this pot has been tested in a laboratory and was found to be free of cadmium and lead. Further, these pots have been fired at a very high temp to ensure that they are very tough. As a result, these pots will hold up nicely in any weather.
In terms of functionality, it has a lot to offer. You will find a well-functioning drainage system as well as a mesh screen that prevents the pot from losing soil.
Pros
A beautiful matte glazed finish
Contains a big mesh pad that prevents soil from leaking
Safe for kids and pets– lead and cadmium free
Fit for all weathers, durable
Stylish design- even comes with a matching saucer
Cons
The drainage tray might be too shallow
Verdict
In this product, Fivoli has provided an incredible blend of style and practicality. It will match any place in your home seamlessly while providing your Peace Lily the best housing.
2. Classic 9411D-060 Corinthian Round Planter
A Peace Lily terracotta pot can end up costing more than you guessed. But you do not have to fret if you want a terra cotta pot but do not have the budget for it – this Classic Home and Garden pot is your ideal match.
Made of resin and stone dust, this pot is designed to look like real terra cotta. The materials inside are of high quality, and they are very durable too. This pot will not break as easily as some other materials do.
Further, there are two different sizes (10″ and 13″) and 5 different colors to choose from, so you get a good selection.
Pros
Available in 5 colors and 2 sizes– a wide range
Stone dust and resin materials provide durability and quality
Very affordable
UV treated pots can be used both indoors and outdoors
Cons
Does not come with a drain dish
Verdict
Something unique that you will find in this product is that it is not actually terra cotta, although it very much looks like one. The high-quality plastic is thick, durable, and extremely affordable.
3. Ourwarm Set of 4 Terracotta Plant Pots
At the third spot, we have a set of pots you could buy because more is always better when it comes to plants, right?
This set comes with 4 plastic planters that are terracotta colored. They come in 4 sizes– 7, 6, 5, and 4 inches. The pots come complete with matching saucers at the bottom to catch any excess water that may come from the drainage holes at the bottom. So, your pot will never have too much water.
You could plant your Lilies in the bigger pots and get some succulents for the smaller ones. The plastic build is not flimsy and breakable like regular pots– it is quite sturdy and thick.
Pros
A beautiful different-sized combo that will greatly enhance your home
Lightweight, yet thick & sturdy– will last
Has drainage holes and trays to dispose of the excess water
100% recyclable and food safe– good for the environment
Minimalistic modern build will bring a modern flair to your home or garden
Cons
They are made of plastic, not clay, so do not be misguided
Verdict
There is something very aesthetically pleasing about matching plant pots in descending sizes. We loved this item for the looks as well as the functionality.
4. Santino Self Watering Indoor Planter
There is a major con to owning plants that stops many of us from getting them is that they need regular watering, or else they would die. Let's face it, many of us have accidentally killed a plant at some point, and it does not feel nice.
The solution is very simple, though. Get this self-watering pot, and your days of worry will come to an end. You can finally get a Peace Lily that will stay alive.
This pot is great for keeping your Peace Lily healthy, air circulation will make it grow fast, and running water will promote root growth. Indeed, it is the best planter for Peace Lily.
Pros
Self-watering for up to 4 weeks– will let you be carefree
13 different colors give you a wide selection
The running water supply promotes healthy root growth
Optimal air circulation helps plants grow faster
Cons
It can be hard to lift the pot
Verdict
With Santino's Peace Lily self watering pot at your house, you can go on extended vacations or trips any time you want without having to worry about getting a plant sitter or, worse, getting your plants killed.
5. Classic Home and Garden Bella 10″ Planter
We have yet another product from Classic Home and Garden to share with you. This gorgeous ruby-shaded planter will not only provide a home to your Peace Lily, but it will also create a stark contrast against the graceful white flower and lush green leaves. And if you rather have another shade, there is white available.
Often, colorful pots lose their color over time due to exposure to the sun. That will not be the case with this pot, as it has a protective UV coating that will preserve the brightness and protect the pot from UV rays.
It does not come with drainage holes, unlike the other pots listed in this review. This can be a pro to those who don't want it. If you do want drainage holes, you can easily drill some in the bottom.
Pros
UV coated finishing protects the bright colors and is great for outdoor use
Can be easily lifted and loved if required
A roomy planter with 9.5-inch height and 9.9-inch top diameter
Magnificent red color
Affordable
Cons
Not the best quality material
Verdict
This planter is good for really aesthetic homes– it will provide a nice pop of color with beautiful Peace Lilies.
6. D'vine Dev Store 6 Inch Planter Pot
This next one is a personal favorite of mine– take a look at it, and you will understand why!
First, let's talk about the build. The pot is made of high-quality ceramic, and the technology used ensures that the pot provides insulation to the roots of the plants. Thus, if you keep your Peace Lilly at the window sill, it will not be impacted by weather changes.
The beautiful modern dotted design accompanied by the matte surface and gorgeous color options make this pot a must-have for modern homes.
Pros
Classy matte finish makes it great for any modern homes
Matching drainage saucer will catch the excess water with style
Added stainless-steel drainage net to prevent the soil from falling
High-quality ceramic body provides insulation to the roots
Added scratchpad will protect your tabletops from getting scratches
Cons
The saucer does not hold too much water
Verdict
Here's a high-quality ceramic pot that will not only look amazing in modern homes but also provide the best care possible to your Peace Lily. You will not regret paying extra for it once you experience how great it is!
7. Costa Farms Live Indoor Plant Ceramic Planter
Costa Farms is a reliable name in the world of gardening, and they hit the mark with this product as well. Light up your room with this little buddy that shows off its dark green and white contrast and pleases your eyes.
This Peace Lily planter is a great addition to your humble abode. It is quite low maintenance as well. Just water it sufficiently and give it plenty of sunlight, and it will be fit as a fiddle.
With Costa Farms' reliable quality control, rest assured that you will end up with a flourishing flowery companion.
Pros
Comes with a premium 6-inch planter that amplifies the aesthetic and secures the plant
Easy to care for, regular watering is what the plant mostly needs
Weather-resistant, expect the plant to be healthy even in the dry winters
Incredible quality control by the manufacturer ensures that you get a healthy sapling
Cons
Requires distilled water always, so a hassle for the owner
Sometimes, late delivery may cause the plant to wither
Verdict
This top-quality plant & pot set will demand very little of you yet fill up your room with splendor.
How to Care for a Peace Lily Plant in a Pot
Now that you have some great pot options at your hand- let's talk a little about how to care for a Peace Lily plant in a pot. Follow our tips to maintain a healthy and flourishing plant–
Light
Partial shade is the best for Peace Lilies. They can be kept under fluorescent lights, too. If the leaves are yellow, the light is too bright. And if they're brown, that means the sun has scorched them.
Water
You should water at least once every week and ensure the soil is moist. A great way to know if your Peace Lily needs water is that it will droop slightly. During summer, spritz distilled water on the leaves. Make sure to water less frequently during winter.
Look out for chlorine because it can harm your Peace Lilly. If your tap water is heavily chlorinated, let some water sit overnight before watering the plant. This way, the chlorine will get the chance to percolate out.
Temperature
The reason why Peace Lily is the perfect house plant is that it will thrive in regular indoor temperatures. Peace Lily likes humid climates and temperatures in the range of 65 degrees to 85 degrees Fahrenheit.
FAQs – Growing Peace Lily in a Pot
What kind of pot is best for a Peace Lily?
Peace Lily is a rather low-effort plant. It will be okay in almost any type of pot.
Can Peace Lily grow in water?
Yes, it is possible for a Peace Lily to grow in water. If you want to not involve any soil at all, keep the base of the plant on top of the waterline. You can layer small river stones or use a special insert for this job. That way, the root will grow inside the water, and the plant base will be above the water.
Can Peace Lilies grow in artificial light?
Yes. Peace Lily can easily tolerate fluorescent lights and can even thrive in rooms with no windows. If the leaves get yellow, it is an indicator that the light is too bright for the plant.
Can I use cactus soil for Peace Lily?
Cactus soil is well-draining, which is great for Peace Lilies because stagnant water is harmful to them. So, yes, you can definitely use Cactus soil.
How do I keep my cat away from my Peace Lily?
You can hang the pot from the ceiling or use deterrent spray, noise, lion dung products, etc., to deter your cat.
Final Words
If you get the best pot for Peace Lily, your plants will thrive and make your home look peaceful, as the name of the plant suggests. Make sure to water your plant regularly and not leave stagnant water in the pot, and your plant will be in great shape.