Grow Tents do a great job of creating an indoor environment for growing flora in an enclosed space. But to make this happen, you need to get your equipment right. Otherwise, you won't get the results that you want.
That is why you need the right oscillating fan to make sure you get good airflow through the tent, ensuring proper humidity. So, we have put together reviews to help you choose the best oscillating fan for grow tent.
So, without waiting any further, let's jump in our top 5 picks: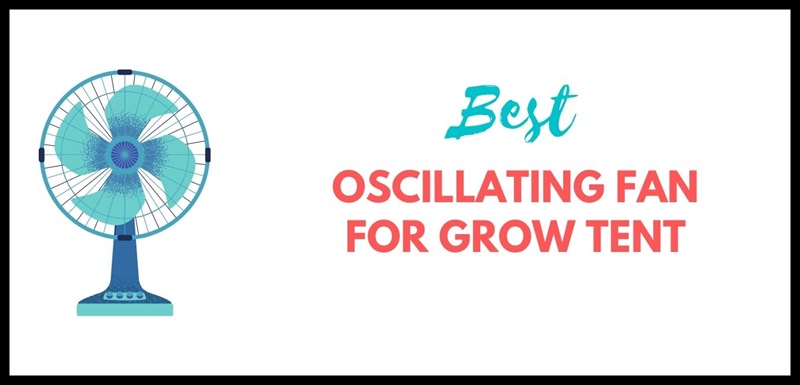 Best Oscillating Fan for Grow Tent: Reviews
To help you out, we have put together reviews on five of the finest oscillating fans out there needed for grow tents. They are written in a way to help you make the purchase decision.
1. Hurricane 16 Inch Wall Mount Oscillating Fan
The first entry in our series is by the well-known brand Hurricane. They have always made a name for themselves in the fan industry and have always delivered top-notch fans for use.
And this one is no different. We believe this would be a fine addition to your arsenal of fans in the grow tent. Let's see why.
For starters, this is a wall-mounted fan, so you can set the fans at the corners of the room in such a way that it covers the whole area of your grow tent neatly and provides excellent air circulation throughout.
Moreover, it also has 90-degree oscillation, which helps it navigate cool blasts of air more efficiently. Along with all that, this 16-inch fan comes with three different speed setting that puts a powerful yet quiet motor to good use. With these settings, you can choose your ideal airflow.
Pros
Wall-mounted fan for proper positioning
90-degree oscillation for air circulation
It comes with three different speed settings
Durable construction for longevity
Cons
It might squeak while moving if the motor is not maintained
Verdict
The Hurricane Classic series 16-inch fan would be perfect for a slightly bigger tent than a 4×4 grow tent. Its 90-degree oscillation can easily cover the space and keep the environment in the grow tent nice and breezy.
2. PELONIS Pedestal Standing Oscillating Fan
Here's an addition from Pelonis, which took us all by surprise. This pedestal standing fan has great potential, and we can't deny that. Pelonis has provided us with great fans before, and it's quite the same this time. But this one has some touches of innovation that we welcomed with open arms.
This fan has a silent DC motor to start things off, which remains surprisingly quiet. So, with less sound, this fan can provide more power, which is commendable.
Moreover, it also comes with 12-speed settings, which give buyers more customization options.
Along with all that, the fan has an oscillation of 85-degrees and a tilt of 24-degrees. That helps the blades cover all the corners of one room. And as the cherry on top, the controls are an LED display that can be used with a remote controller.
Pros
Equipped with silent DC motors for less sound and more power
It comes with 12-speed settings for more customization
85-degree oscillation and 24-degree tilt help in covering the whole area
Features an LED display for better navigation of options
Cons
It doesn't oscillate at a complete 90-degree angle
Verdict
This oscillating fan with remote does a great job and stays quiet while doing so. Moreover, the 12-speed settings that come with it will help you crank it up a notch if necessary.
3. Tornado 16 Inch Digital Wall Mount Fan
Next up, we have a digital wall mount fan by the company Tornado. They are well known for their catchy name among fan companies and their performance in the industry itself. Customers have always been satisfied after getting one of their fans, and this is no different.
Firstly, this wall-mounted fan comes with a fairly powerful motor which is marketed to be as quiet as a whisper. Now, that's what we call very promising, and to some extent, they are being true to what they are marketing to this fan. Moreover, you can also operate multiple fans of this model with the same remote.
Secondly, you can set the fan to three different modes according to your need inside the grow tent. So, if you put the fan in different corners of the room, you can set the speed according to what you need to keep the plants healthy.
Lastly, it comes with a timer that can be set from 30 minutes to 7.5 hours.
Pros
You can control multiple fans of this model with the help of one remote
The motor is marketed to be whisper quiet
It can be set to 3 different modes depending on your need
Come with a timer ranging from 30 minutes to 7.5 hours and comes with thermal overload
Cons
Connection cord comes from the top rather than the bottom, which can be problematic for connecting
Verdict
The Tornado wall mount fan is mainly designed for use with multiple units in your grow tent as you can use all of them using one remote, which is highly convenient.
It also means that you can change to 3 different modes on all of them simultaneously.
4. Lasko 36 Inch Oscillating Tower Fan
Lasko is a well-known company for making fans that are on the premium side. They focus on performance and the fan's outlook, which is a definite win on your side. But the Lasko 2510 is a 36-inch fan, and thus it is made for bigger grow tent projects.
The first thing that caught our eye about this fan, apart from the size, of course, is the way it looks.
Lasko has nailed the aesthetics when it comes to the 2510 model. It looks amazing no matter where you put it. Along with that, it comes with a remote control which makes things more effortless for us. Moreover, the fan can be set to three different speeds for your convenience and comes with a programmable timer.
Pros
It has a premium look to it, which would be perfect if you want your grow tent to look gorgeous
Three adjustable speeds, all marketed to be quiet
The remote control makes using the fan effortless
Programmable timer shuts the fan off when you want it to
Cons
Not as quiet as marketed. But that shouldn't be a problem in a grow tent
Verdict
This fan is designed for high-value grow tents. It can fit in a large grow tent and even make the project look premium. Along with that, the programmable timer will also turn it off without you having to be around to take control of it.
5. VIVOSUN Clip on Oscillating Fan
And last but not least, we have a Vivosun Oscillating Clip Fan, which is only 6 inches in size and made to be compatible with a grow tent.
Vivosun has always made fans that are worth noting, and this is no different. So, let's see the features that come with this Vivosun clip-on fan.
To get things started, if you're looking for an oscillating fan for your 4×4 grow tent, this is the one to go for, thanks to its specific design. This clip-on oscillating fan for grow tent was made specifically to grow tent poles from 0.59 to 1 inch in size.
Moreover, it also comes with well-crafted blades that work great together to provide the best kind of artificial air for your plants. Along with that, you can adjust the shaking rods to be in the right position, combining with the two different available speed controls.
So, this is the perfect small oscillating fan for grow tent temperature management, and we recommend it.
Pros
Specially designed small oscillating fan for grow tent
Triple Spiral blades work great in unison when grouped
Fully adjustable shake rod for setting it to whichever direction you need it to be pointed at
It comes with two different speed controls
Cons
Too small to be used as one unit alone
Verdict
In our eyes, this is the best oscillating fan for 4×4 grow tent, thanks to its 6-inch size. Moreover, it's also designed to fit around the grow tent poles exclusively.
How to Cool a Grow Tent
Keeping your grow tent cool is an essential job. It helps your plants grow steadily and can make a massive difference in the output that you get from them. So, here, we have put together different ways that you can cool your grow tent.
1. Use Ventilation Scopes Properly
Proper use of the vent holes on the grow tent can help a lot in cooling it off. So, you need to make sure that you are doing this right to let the heat escape.
2. The Lesser the Heat Sources, the Better
Try to use only as much as necessary, not less and not more. Try to keep it at a minimum to keep the plants lush and the temperature at a minimum.
3. Implement Proper Ducting
The ducts need to be shaped correctly to ensure the air makes its way around and cools off the temperature. Most people would bend it too much.
4. Maintain High Humidity in the Grow Tent
Humidity and temperature are directly connected. The lower the humidity, the faster the environment around the tent gets hotter. So, the lower the humidity, the higher the temperature. Therefore, you need to keep the humidity under control.
5. Place the Grow Tent as Per the Exterior
The exterior of your grow tent is very important when it comes to maintaining temperature. If the exterior is hot, then the chances are that the interiors will be hot too without any product. So, you can reposition your grow tent to a place where the exterior is cool too.
Frequently Asked Questions
What size oscillating fan for grow tent?
There are different sizes of grow tents out there. So, for larger tents, you'll need a larger fan. These fans circulate air throughout the tent, so you need ones with enough power to cover the whole area. So, it's better to choose the size for your fan by taking the size of your tent into account. For example, a 4×4 tent would do great with a 6-inch fan.
Should I leave my fan on when the lights are off?
It would be best if you didn't do this. Plants only consume CO2 in the presence of light. So, if the lights are switched off, the plants will not be taking CO2 in. In that case, keeping the fan on won't be of much help. So, we recommend that you turn the fan off with the lights. But in the case of a closed tent, you might want to keep the circulating fan on 24/7.
Where does the oscillating fan go in a grow tent?
Like the size of the oscillating fan, the position also depends on the size of your tent. Along with that, it also depends on the number of fans that you are using.

You have to place the fans strategically so that the wind is strong enough only to rustle the leaves on your plants. So, if you keep the fan far away, make sure that it is fast enough, and if you keep it close, don't make it too strong.
What kind of humidity should I maintain in the grow tent?
You should maintain high humidity in the grow tent to keep the temperature at a minimum.
How much difference does a 90-degree bent duct make?
It makes quite the difference. Ninety degrees of a bend in the duct would need a fan that is 5% more powerful.
Conclusion
That was our take on the best oscillating fan for grow tent on the market right now that would probably suit your needs. Now, we hope that you will put this information to some good use and make a purchase that does justice to you. Until then, good luck!