You can get yourself a grow light. However, even though the seller tells you that it's meant for succulents, he's not always telling you the truth. What we saw is that the marketplace is full of wrong grow-light type that doesn't help succulents to grow at all. Maybe this one is 'news' for you, but it's the TRUTH!
You need something that comes with all the wavelengths, an efficient heat sink, a quick heat dispelling system, great spectrum of light. It's not like you won't find something full of these features, but they'll just break your bank.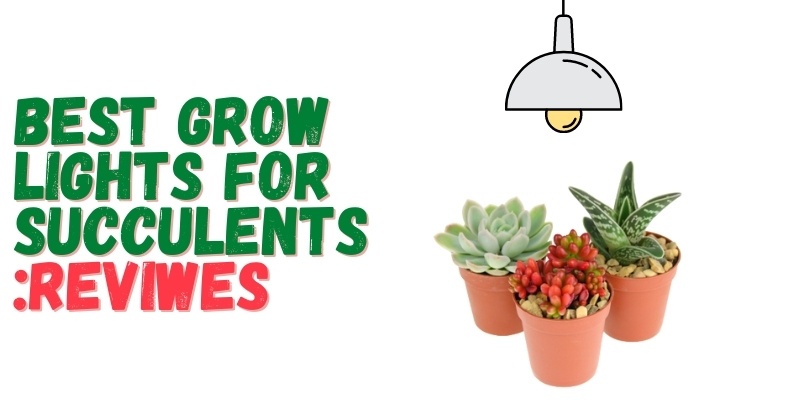 Now, after researching for hours with our team, we've come up with 5 grow lights that will help your succulents grow faster. All you need to do is read the reviews and get your hands on the one that suits you best.
Here is a quick List of Our Best 5 Grow Lights for Succulents:
5 Best Grow Lights For Succulents: Reviewed
Starting from now, we will be taking a look at five of the best grow lights out there in the market for succulent plants.
1. Ankace Full Spectrum Succulent Grow Lamp
To kick off our list for the day, we would like to introduce you to a full spectrum grow light from the brand Ankace. A full spectrum light means that this product emits light at wavelengths that match natural sunlight (from 380 nm to 800nm).
This feature greatly boosts the photosynthetic rate of any plant the grow light is used on. Side by side, you will not have to worry about the longevity of this beauty either, thanks to its replaceable bulb system. Trust the bright light to reach every nook and cranny of the leaves due to its flexible stand. This allows the lamp to twist and turn at different angles without worrying you about the product breaking down.
Moreover, you can even use it at low-light intensities, which in turn will also protect your eyes from the extra glare. The factor also greatly reduces the amount of heat given off by the light. For extra measure, Ankace equipped their grow lamp with a premium quality heat sink which works to further increase the shelf-life of the product.
Pros
All wavelengths of light available, which enhances plant growth
Replaceable bulb system reduces hassle during usage
A flexible neck allows the light to reach all corners
An efficient heat sink increases product life by manifold
Cons
Some may find the light to be a bit too dull
2. Likesuns LED Grow Plant Light
When talking about artificial lights for succulents, your best bet would be one that has two or more heads instead of one. Our next LED grow light from Likesuns will give you just that. With a power rating of 50W, these grow lights have just the perfect amount of brightness and intensity, and your plants will thank you for it.
This product covers a total surface area of around 4 feet or so, thus ensuring that every plant within that vicinity gets its fair share of light.
Similar to the other products here, the LED grow lights from Likesuns also perfectly imitate natural light and have a wide-ranging spectrum. What's more, you do not need to worry about your succulents still not getting enough light, despite the large surface area that this beast covers.
This is becauseLikesuns has designed the lamp to have two heads, both of which are very flexible and can therefore be twisted to your liking.
Unfortunately, it does not come paired with a timer, but that is the only downside to the product. Overall, this is one of the best led grow lights for succulents on our list.
Pros
Fast working heat sinks reduce the amount of heat given off
High-intensity bulbs help imitate natural light almost perfectly
Flexible necks assist in lighting up every part of the plant
Integrated with two light systems: for plants and flowers
Cons
Few consumers received products that did not meet their expectations
3. Mosthink LED Plant Grow Light Strips
Growing succulent plants require a lot of patience and care. That's where these light strips come in. They are super flexible and can be taped onto literally any surface that your plant is on. The 78" long power cable ensures that nothing gets tangled with the leaves.
On top of that, each strip produces light within the natural light wavelength, hence boosting plant growth. You can go about your day without having to worry about turning them on or off.
Simply set the timer to your designated time, and the lights will routinely operate themselves. Mosthink knows how important different light intensities are for growing plants. That is why they added a special feature in their product which allows you to choose which brightness level you want for your plant babies.
These lights are certified by the FCC and ROHS, which means that they are 100% healthy for your plants and will not even burn them with their heat. After all, you can buy this best grew light stripe for succulent without any doubt.
Pros
Ultra-flexible strip lights help rejuvenate every leaf surface
Super long power cord diminishes risks of tangling and immature plant death
Brightness level of the product can be manually selected to your liking
Quick heat dispelling system prevents your leaves from burning
Cons
Does not produce light for more than 8 hours, thus being ineffective for plants that require light for longer periods
4. Shengsite LED Grow Light for Succulents
If the previous product on this list didn't meet your standards with the inefficient operating hours, we would recommend you to go for this one. Integrated with a 12-hour timer, your plants will absolutely love this set of LED grow lights, especially if they are a bit high-maintenance.
The 88-piece LED working system provides your plants with light within 380nm-800nm in wavelength, thus completely imitating natural sunlight. Side by side, you only have to set the timer once, and never bother with it again, until it's time to change its setting. At the same time, the aluminum structure of these grow lights help disperse heat quicker, hence reducing the risks of a fire breaking out due to overheating of the system. This feature also enhances the life of the product itself.
Moreover, you get to choose from five different levels of intensity, ranging from 20% up to a 100%, following your plant's needs.
Lastly, the bulb area can be rotated through a 270-degree angle while the stand itself is completely flexible. This ensures that light from the lamp reaches every pore in the leaves and stem.
Pros
Flexible neck and dual lighting system helps to cover more surface area
Wavelength falls between 380nm-800nm, which mimics natural light
Body of the lamp is made of aluminum, which works to quickly disperse heat
Different levels of intensity can be selected based on your plant's preference
Timer can be set for longer periods
Cons
Although made of aluminum, the body seemed to be pretty wobbly
5. Haus Bright Warm White LED Grow Light Bulb
Looking for the best grow light bulb for succulents? For the very final product on our list, we will be reviewing the LED grow light bulb from Haus Bright. These lights are more suitable for those of you who do not get a lot of natural sunlight in their homes for different reasons. The light that these bulbs emit is so bright that you will instantly feel as though you were outside. Such high-intensity illumination stimulates photosynthesis at a higher rate and subsequently causes your plant to grow faster.
This beauty is suitable for almost any type of plant, including succulents, cacti, and even new seeds. Moreover, a full spectrum light is produced, which falls within the 380nm-800nm wavelength range. This is the main reason why the product complements plant growth so well.
On top of that, the grow light is also super-efficient. Despite having a power rating of 100W, it will only use electricity worth 20W, thus letting you save up on extra bills. Another way in which the efficiency of these lights is increased is by enabling proper heat dispersion.
Subsequently, it also lets the product last for longer. Last but not least, getting these lights installed is a breeze, thanks to simple design.
Pros
An efficient system increases the lifespan of the product
A full spectrum of light is delivered to your plants
Broader light beam helps cover more surface area
Quick heat dispersion system reduces risks of overheating
Cons
Due to the product being a simple bulb, no timer is included, which means you have to manually keep checking all the time
How to Use Grow Lights for Succulents?
Now that we are done reviewing the products on our list let's dig a bit deeper into how you can use artificial light for succulents.
Getting the Right Grow Light
Getting the right type of grow light for your plant should be at the very top of your priority list. Without this, your plant will not experience any drastic changes in its photosynthetic pattern.
There are different kinds of grow lights available in today's market, such as fluorescent bulbs and tube lights, high-intensity metal halides, and LED lights.
While the first two options are meant for industrial or home usage, the other two can easily be found in any plant store for an affordable price.
Keeping the Temperature in Check
Since we're talking about succulents here, the recommended temperature is 6500K. But if you wish to simply make your plant bloom, you can always opt for 3000K instead.
We have reviewed the top 5 grow lights for orchids. You can check that out!
FAQs on Growing Succulents Indoor
How much light do succulents need?
Succulents are plants that absolutely love staying in bright places. On average, an adult succulent plant should be kept under the grow light for approximately 6 hours. However, take caution in reducing light-time for those that have just been planted since prolonged periods of exposure to light may harm them.
How much water do succulents need?
When it comes to watering them, succulents are pretty low-maintenance plants. This is because they only need to be watered when their soil turns completely dry – to the point where it almost feels like it's about to crumble. Adding more water before the estimated period will only prove to be detrimental to your plant's health.
Can succulents grow in office light?
Absolutely! Succulents will thrive in low-light conditions as long as it's the right species and is placed in the right type of soil.
How far away should LED grow lights be from succulents?
If you are using LED grow lights for your succulents, make sure you place them at least 18 inches away from your plant. At most, the lighting system should be at a distance of 24" from the leaves. Here is a full guide of calculate the grow light distance.
Can succulents grow in fluorescent light?
Yes, you can definitely grow succulents in fluorescent lights as well, so long as you do not deviate too much from the mean amount of light required for them.
Final Words
That concludes our article on the best grow lights for succulents. We hope this list helps you make your decision on your next grow-light shopping spree. Out of all the products on today's list, we are a huge fan of the LED Grow Lights by Shengsite due to its never-ending list of appalling features. The timer in it seemed the most promising in comparison to the rest of the products on this list. So, which one did you like the most?