Microgreens are essentially vegetable and plant seedlings. They may be cultivated throughout the year in compact plates. Now, they can be grown in professional labs, indoor gardens, or even windowsills under proper lighting conditions.
From the healthy microgreens option, radish, broccoli, amaranth and arugula are some of the easiest and highly recommended vegetable seedlings to grow indoor. Besides, there are cabbage and basil microgreens as well.
Whether you are a professional who wants to cultivate plants from seeds in their lab or a nature enthusiast who wants to grow vegetables at home, you need a proper level of lighting.
Here's where this article will help you. We will guide you through our top recommendations for grow lights. With our help, you will be able to choose the best grow lights for microgreens, which will safely help with your seedlings' growth.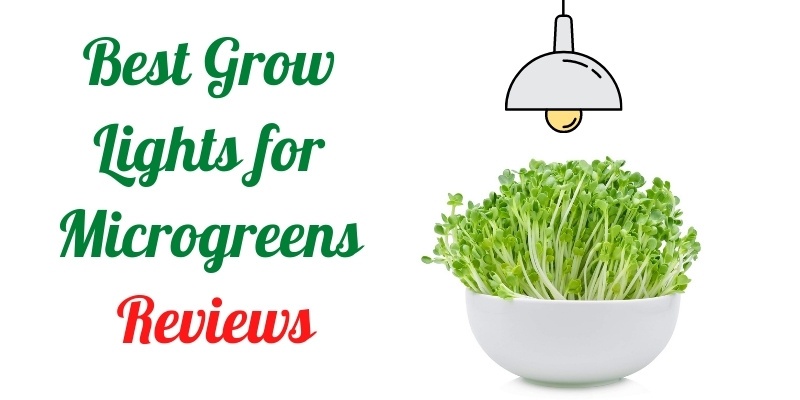 Our Top Picks:
5 Best Grow Lights for Microgreens Reviews
Let's get right into the comprehensive reviews of the best microgreens grow lights currently on the market.
1. Active Grow T5 LED Strip Light for Microgreens
As for our first option, we have a high-end option from Active Grow. This particular recommendation is only at the bottom of the list owing to its high price. Now, this is one of the best t5 grow lights for microgreens. It offers a range of features that no other alternatives can provide.
In fact, based on the initial concept, this is a radically distinct product from the others. This one, unlike the others, is a single light strip fixture. It isn't made up of several other small light chips.
In terms of innovative features, it also offers an immediate energy-saving system that may help you save up to 60% on your light expenses. Besides, it also has a highly sturdy build that will last for a long time.
Pros
Designed with the upgraded phosphor chip to provide sunlight-like light
Saves more than 60% of light consumption
Includes necessary parts and materials like a power cord, dual-end connector, and more
It has high-end construction, which makes it highly durable and long-lasting
Cons
Cost more than all alternatives
Verdict
While this is a cutting-edge light fixture with improved phosphor chip technology and an energy-saving system, it comes at a high price. As a result, this is best suited for experts or individuals who maintain high-quality indoor gardens. Read our latest reviews: 5 Best LED Grow Lights for Herbs
2. Juhefa Full Spectrum LED Grow Light
For the second option, we have a grow light attachment that hangs from above over the microgreens. When turned on, it gives off a bright pinkish look, and it offers a full spectrum of lights.
At first glance, you will notice that the set comprises 144 powerful LED bulbs. There are red, blue, white, ultraviolet (UV), and infrared (IR) chips. Since it consists of the whole range of the spectrum, this grow light may be used for all growth phases.
Firstly, it can be used to boost photosynthesis. It's also excellent for seeding, sterilizing, flower blossoming, and fruit ripening. These fluorescent lights offer a wide range of applications, including hydroponic systems and small indoor plants. They offer great use for vegetables like tomatoes and potatoes.
Most importantly, this is offered at an incredibly low price compared to some other alternatives. So, if you're seeking to grow microgreens indoors on a budget, this is the best led grow light for microgreens to buy.
Pros
Full-spectrum of lights, including UV and IR bulbs
Your workstation gets a colorful vibe
It can be used for many different grooming activities
Offered at a very affordable price
Excess heat is not generated
Cons
It has a slightly cheap construction
Verdict
This is a full spectrum LED light that is reasonably priced. It can be utilized for various growth stages and activities, including germination, sterilization, and fruit development.
3. Roleadro 75W LED Grow Light
Next, we have another led grow light for microgreens of a similar nature. This is not much different from the second one, except it is a bit pricier. Roleadro, which was created in 2008, is a company that specializes in LED light research, innovation, manufacturing, and sales, including grow lights. Roleadro has evolved into a major force in the sector after 13 years of investment.
As this is a full spectrum LED light, it emits the whole spectrum of sunlight. Essentially, it encompasses all visible light between 380 and 800 nanometers. Rather than delivering a specific red or blue wavelength, it offers sufficient light that the plant requires at all phases of development.
It shields the eyes and minimizes retinal damage. It also enhances the colors viewed by the human eye and makes them more realistic. Since it ensures safety, full-spectrum lights are preferred.
Another outstanding characteristic is that the mechanism is entirely noiseless. To accomplish proper heat transfer, the manufacturer uses an aluminum cooling plate composed of sophisticated low molecular composition and a compact heat sink for each bulb. It is not only noiseless, but it also does not produce excessive heat.
Pros
It offers a full spectrum of light
Compatible with all growth stages of small plants and succulents
Offers much more concentrated light source
There is no unnecessary noise
Cons
It doesn't offer any timer function
Verdict
This is a similar option with a couple of advanced features, like the concentrated light source, which makes it excellent for the development of microgreens. It also has a variety of small chips that include light from all wavelengths.
4. CXhome T5 Full Spectrum LED Plant Grow Light
We have a more traditional kind of grow light from CXhome that is perfect for all types of indoor plants. It is definitely worth the money, although it is a little pricey.
This particular bundle comprises 6 light strips, where each is equipped with dual-channel control. Meaning, the components can be separated into two groups, each with one to five light strips. If you want to access a particular channel or several channels, press the button at the center.
In addition to that, the manufacturer offers different brightness levels. You can switch between 25%, 50%, 75%, and 100% brightness based on your requirements.
Not only that, the overall installation and usage mechanism of the product is also quite simple.
The majority of classic grow lights can only be hung. With this, the 3-meter double-sided tape can be used to fix it to a wall or a board. Besides, 1.5-meter power cords are also included in the bundle, which may be utilized to cover extended distances.
Pros
Includes an auto timer with multiple preinstalled options
Four adjustable brightness options for convenient usage
It offers dual-channel control, which allows the pieces to be divided into two different sets
Simple mechanism and can be installed at any place
Cons
It comes at a relatively higher price point
Verdict
Here, we have an option with a couple of advanced features. This has multiple options for brightness levels, automatic timers, and even strip adjustments. And, these factors alone make it well worth the money.
5. Aogled Small LED Grow Light With Adjustable Grip
Here, we've put up a contemporary take on grow lights for you. This specific design from Aogled is a lovely alternative for brightening up your indoor garden. There are LED lights of colors- red, blue, and two different shades of white- cool white and warm white in this fixture.
These lights combined work to help with photosynthesis, germinating, blooming, and outcome. They also aid chlorophyll production, boost warmth, and improve photosynthesis in plants.
Now, this light features an easy-to-install and use mechanism. Because this is a hanging light, cable slings and swivel hoops must be used to hang it. These components can be found in the hanging kit that comes with the box. As for user convenience, it has a simple power button that can be used to switch the device on and off.
If you know how to grow microgreens indoors, you will know that they require proper lighting. Full development of a plant from germination to fruit formation depends on correct lighting arrangements. And, this particular grow light will help with your gardening project.
Moreover, these are incredibly versatile grow lights. So, they can be used for a number of plants, primarily hydroponics and indoor plants.
Pros
It has a high-end construction that makes it last a long time
Requires low source of power to work
Maintains low heat
Provides no unnecessary noise as there is no internal fan
Ensures excellent return-on-investment
Cons
It comes in a pretty small size
Verdict
This is a light that not only efficiently aids in the observation and stimulation of a plant's growth from its early stages but also lights up your workspace.
How to Grow Microgreens Indoors
Hers is a simple way to grow these plant seedlings in 10 simple steps.
Step 1: Collect Necessary Equipment
Here are the things you need to gather-
Planting Tray
Potting Soil
Spray Bottle
Shaker Bottle
Microgreens Seedlings
Covering Lid
Step 2: Pour Soil on the Planting Tray
First, you have to take the potting soil and pour it on the planting tray.
Step 3: Spray Water over the Soil
Then, you have to fill the spray bottle with water and keep spraying over the soil till it's soaked all the way to the top.
Step 4: Pour Seedlings into a Shaker Bottle
After that, you have to take the shaker bottle and insert the microgreens seedlings inside it.
Step 5: Spread Seedlings over the Soaked Soil
Next, you will evenly spread the seedlings on top of the soil. Then, using your fingers, disperse clusters of seedlings to regions where there are fewer seedlings.
Step 6: Spray Water over the Seedling Covered Soil
Now, you will again pour water on the soil. This time the water has to soak both the soil and the seedlings properly. Then, slowly cover the tray with the lid.
Step 7: Wait for a Couple of Days
Let the soil and seedlings soak in the water. Give it some time to grow.
Step 8: Peek Through the Lid
After about 2-3 days, look under the lid without completely removing it. If it looks like the seedlings have started developing, move to the next step. Otherwise, wait for a couple more days.
Step 9: Spray Water over the Growing Seedlings
Now, you have to use the spray bottle to spray over the developing microgreens.
Step 10: Check for Growth
Wait for a while. Then check if the seedlings have grown into small plants.
How to Choose The Best Grow Lights for Microgreens
When shopping for grow lights for microgreens there are several things you need to consider; light types, colors, light intensity, and heat. Let's discuss them in detail.
Type of Light
For growing plants indoors there are several kinds of light systems you can buy from the market. But the ones mostly used as grow lights for microgreens are as follows.
1. Fluorescent lights
These lights are commonly used for growing smaller plants at home. They are more economical than metal vapor and incandescent lights and also produce less heat than HPS lights.
Fluorescent lights are known to provide a full spectrum of lights for small plants to grow properly. These lights are inexpensive and widely available as well.
However, there are still some drawbacks to them. They use more power to run and the bulbs contain mercury inside. So there is the risk of your microgreens getting contaminated should the fragile tube gets broken or damaged.
2. LED lights
Short for Light Emitting Diode, LED lights are the most preferred grow light type for microgreens at home. Most growers nowadays prefer LED over all other light types since they are more accessible, consume the least power, and provide adequate light spectrum needed for the plants.
These lights are lightweight and cause less electrical interference as well. Since they are not made of glass and there is no toxic material inside, there is little risk of your plants getting contaminated with them.
Light colors
One of the primary attributes to consider for grow lights is color. The color of a grow light is also known as spectrum. And as you can see, certain spectra of color are more suitable for microgreens than others.
The color 'Red' and 'Green' are more suitable for microgreens as they are associated with the flowering and vegetative stages of plant growth respectively. That is why microgreens do best when there is a lot of red and blue colors in the grow lights.
How would you know which color is the grow light? Look for a light that offers a spectrum between 400 nm – 700 nm as this falls within the red and blue wavelength ranges.
Heat
The heat produced by light is measured through Kelvin and most lights are labeled within the 2000K to 6500k range. The higher the number, the closer the light to natural sunlight.
Therefore, our general recommendation would be to pick lights that closely resemble the natural sunlight. For that, you can choose the full spectrum light between 5,000 – 7,000K for vegetative growth and 3,500 – 4,500K to promote flowering.
Bulb Intensity (Watts)
The power or the intensity of light is expressed through the wattage. Watts are important for showing the power capability of grow lights. The higher the wattage the intense the light.
Since the growing time of microgreens is short high-intensity light isn't necessary. For a 10/20 tray on a rack, only 2/3 grow lights of 20 watts each works just fine.
How Much Light Do Microgreens Need?
Most microgreens require some period of darkness at the beginning followed by light and darkness both for growth. The darkness period helps them to germinate and it takes from 6 to 8 days.
After that, you need to expose them to light daily. Each day they'll require 12 to 15 hours of light and 9 to 12 hours of darkness.
Height of The Light Source
When the light source is weak they need to be closer to the plants. As the source becomes stronger you can move them away from the microgreens. It is important to consider that the heat of the light must not damage the plants in any way.
For LED lights and other cooler lights for the matter, the ideal distance from microgreens is usually 12 inches. But if you notice spots or wilting of the plants, it could be due to the heat from the light source.
FAQs on Growing Microgreens Indoor
How many lumens do microgreens need?
Microgreens thrive under T8 fluorescent lighting, which has a color temperature range between 4000k and 6500k and a lumen output range between 1700 lumens to 2000 lumens.
What lights to use for microgreens?
In order to grow microgreens properly from seedlings, you will need a good quality grow light.
What are the healthiest microgreens?
Microgreens are nutrient-dense, containing far more nutrients than fully-grown veggies. There are a number of healthy microgreens. Radish, broccoli, peas, amaranth, and arugula are some of them.
What are the most profitable microgreens to grow?
Radish seedlings are incredibly convenient to develop and produce a high yield. They also have a strong flavor profile and a pleasing hue that foodies seem to appreciate. And most importantly, they're also packed with nutrients.
Do microgreens need full-spectrum light?
Since most microgreens are cultivated for a brief time, the light wavelength is less relevant compared to plants cultivated for extended amounts of time or until they blossom. For plants that require over 20 days to fully develop, a color temperature above 4500k is advised.
However, if at all feasible, obtain full-spectrum light since they are particularly effective in various situations.
Final Words
We've tried to address all you need to know about microgreens and compatible grow lights for indoor gardens and labs in this article. Based on our assessments of the finest grow lights available right now, you will be able to pick the best grow lights for microgreens for your needs.