Chainsaws are the most effective way of cutting tree branches. But chainsaws are heavier and not easy to use. Nowadays, chainsaws are modified a lot. Now cordless saws are very popular for cutting tree branches. The reason for their popularity is the ease of use they offer.
They are less hard on your arms and muscles and also perform work quickly. Cordless tools are more comfortable and safer to use. Moreover, there will be no issue of entanglement of cords and they can also reach too hard to reach areas.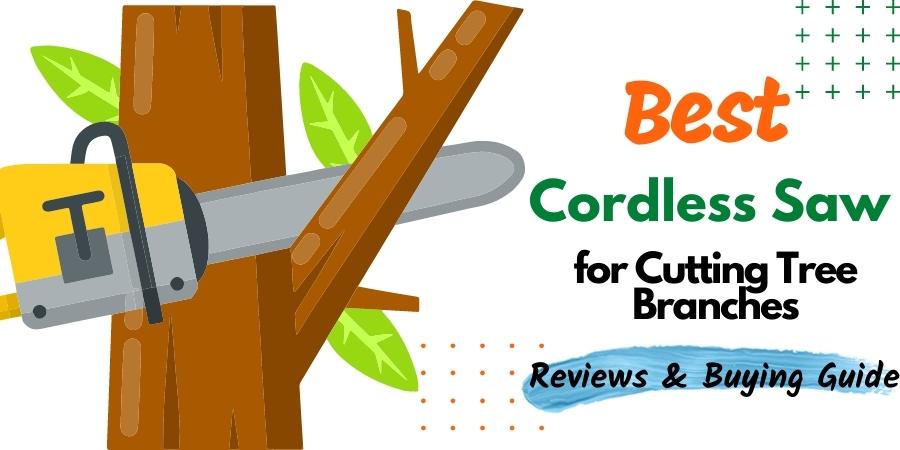 They will help you to do the cutting, pruning, and trimming of your garden tree. Moreover, you can cut tree branches with these saws easily. Most tools come with a battery and a charger and their run time is also longer than any other tool.
There are so many benefits of the best cordless saw. They are eco-friendly, user-friendly, and also super durable. Many cordless saws use lithium-ion batteries that offer maximum power as well as top performance.
Below you'll find what we consider to be the best 5 cordless saws for cutting Tree branches and other related tasks.
Quick List of our top picks of the best Cordless Saw for Cutting Tree Branches:
How to cut large branches of a tree?
If you want to cut large branches of a tree properly, then here is the complete guide. If you are not a professional, then we will suggest you take help from a professional. Let me tell you that wrong cutting can damage your tree bark and interfere with trees' natural processes.
Now for the start of cutting, first of all, cut the branch with a small notch instead of having a large cut. First, cut you need to make 2 to 3 feet away from the trunk.
We recommend not a complete cut because a small notch cut will nr split branches of your tree. Now, cut one more time; that is called a relief cut. For this, you will cut right on your notch amount, and it should be entirely through your branch.
Now you made a top-notch cut and a relief cut; now it turns to make a final cut. The step-by-step cutting process is just for your safety during the cutting of the tree branches. Now make this cut on the swollen bump. For this, you can also cut from the bottom up.
The 5 Best Cordless Saw for Cutting Tree Branches
Here, due to these tools' popularity, we pick the to 5 cordless saw for cutting tree branches. All these saws are from trustworthy manufacturers and made with high quality. Let's have a look at our best recommendations.
1. TrimmerPlus TPP720 8-inch Pole Saw
If you are so keen on cleaning and pruning your trees, Trimmer plus has all your needs. It is a power tool for cutting tree branches from hard to reach areas. You can cut the tree branches up to 12 inches without using a ladder with the Trimmer plus pole saw.
The pole's chain saw and the ladder is lubricated with the automatic oiler so you can maintain the peak cutting performance. All the attachments with the pole saw can work correctly with a gas-powered trimmer.
There is an attachment shaft that helps you easily attach and detach the attachments. All the attachments can easily fit with Troy Blit, Toro, Green works, Cub Cadet, Poulan, Murray, and many more. If you looking for the best pole saw for pruning palm trees, you choose this saw without any hesitation.
Last but not least, the Trimmer plus has 2 years limited warranty. Overall, you can say it is the best pruning saw for cutting branches.
Product Features:
The bar length of the pole saw is 8 inches. The bar and chain can cut up to 4 inches together. The pole is perfect for cutting high reach branches of trees.
The adjustable extension can adjust according to the height of the operator. The 2 height options allow the operator to cut up to 12 inches. So you can adjust the height that suits you best.
There is the use of an automatic oiler on the bar and chain that provides lubrication to work more effectively and efficiently.
The pole saw is compatible with all famous brand units.
There is 2-years limited warranty with the product.
Pros:
Easy to assemble
For hard reach area
Lightweight
Cons:
The adjustment of the chain is a little tight.
2. WORX WX550L 20v AXIS 2-IN-1
It is a 2-in-1 best garden electric saw for cutting out complex shapes that can do work with maximum flexibility. There are twists and turns in the form for the cutting of complex shapes. It is a lightweight, portable, and the best cordless electric saw.
The saw also has a reciprocating mode, which means you can cut through narrow spaces. You can take tighter spaces, for instance, cutting off thin pipes, etc. Furthermore, it can convert from a reciprocating saw to a jigsaw.
You can flip the action like you can lock the saw at its place and flip it up and down. It is a 2-in-1 fully-featured saw that will save your time and money from spending on other tools.
Product Features:
2-in-saw, a reciprocating saw, and a jigsaw for the multipurpose use of the saw.
You will find an efficient circular motion with this saw in comparison of back and forth traditional motion.
It is a compact, and lightweight saw that is easy to carry and can maneuver easily. You will do all work efficiently without having less fatigue and for longer duration work.
For preventing users from dust and debris, there is an integrated blower. It will help you in a more pleasant working time.
The corded electric saw can cut wood, metal, PVC pipe, aluminum, copper, fiberglass, etc.
The electric saw has a 0.4A charger, 20V battery, and 1.5Ah battery.
Pros:
Maneuverability
Easy to use
Versatile
Cons:
Some users have complaints about insufficient instructions on the manual.
3. Black+Decker BDCR20C Reciprocating Saw
If you want the best reciprocating saw for cutting tree branches, from a trustworthy brand and then we got your needs. Here we have a Blak+Decker reciprocating saw with charger and battery. It is a versatile and lightweight saw that provides maximum performance in all your outdoor tasks.
It has a powerful motor of 3000SPM and has a variable speed option. Users can get maximum control on the saw with the features of an electric brake and variable speed options. The saw has an adjustable pivoting shoe for utmost ease of use and convenience.
Furthermore, the process of changing blades is tool-free. The battery's initial voltage is 18 v; on the other hand, the maximum voltage is 20v.
Product Features:
It is the best band saw for cutting tree branches, comes with a battery and a charger.
The saw has a powerful motor of 3000SPM.
On the other hand, it has electric brakes, adjustable pivoting shoes, and tool-free installation.
The maximum voltage of the saw is 20 v.
It is a powerful tool sourced with battery power. Instead of its power, it is a lightweight and compact device.
Pros:
Variable speed trigger
Electric brake
Lightweight
Cons:
Some users have complaints about short battery life.
4. WSQINWI Mini Chainsaw with 2 Chain
Here we have a rechargeable chainsaw for cutting tree branches. It comes with a lithium-ion battery. The battery time of the saw is 4 hours. It means you can do continuous work for 4 hours.
Moreover, the battery will not damage the bark of the saw. Furthermore, the motor of the saw is a pure copper motor. It ensures fast cutting speed and improves the time of efficient working.
Moreover, it has an intelligent control board. The control board offers protection from overload and meets all your construction needs. The electric saw has a lightweight body, and you can maneuver it easily. For lubrication, the saw has a Tungsten steel and guide plate. In this way, the machine will reduce resistive behavior during its use.
Product Features:
Lightweight, portable, and compact design saw with a battery and a charger.
It is the best cordless electric chainsaw for smoother cutting and trimming of tree branches.
It has a pure copper motor that is powerful and provides faster-cutting speed.
The electric saw is suitable for cutting wood, tree branches. Furthermore, it is ideal for trimming and pruning tree branches.
Pros:
Lightweight
Easy to use
Faster cutting speed
Cordless electric saw
Cons:
Small size
5. Sun Joe SWJ800E Telescoping Electric Pole Saw
The Sun Joe telescoping electric pole chainsaw has a robust and powerful motor of 6.5-amp. It can cut the tree branches up to 7.5-inches. The chainsaw has an 8-inch chain and bar for cutting tree branches that are in high areas.
On the other hand, there is full lubrication on the chain and the bar for the maximum use of the electric pole chainsaw for cutting tree branches.
It is an electrically powered chainsaw that will start its work with just a push of a button. It is an ideal electric saw for cutting branches, overhanging limbs, and thin logs. The telescoping pole can extend and reach the length of 8.7ft to 15 ft branches of trees.
Product Features:
It is the best electric saw for cutting of high reach branches and thin logs with its extended reach features/
The telescoping pole can extend up to 15 ft for overhead reach.
Furthermore, the sound power level of the pole saw is 108db.
Moreover, there is no load speed of 6000rpm.
The pole chainsaw has an 8-inch bar and chain, and there is no need for lubrication for both tools. Both chain and bra will get automatic lubrication from the oil tank with a capacity of 2.7 fluid ounce.
Pros:
Easy to assemble
Telescoping pole
Automatic lubrication
Cons:
Choose the Best Cordless Saw for Cutting Tree Branches: Buyer's Guide
These days cordless saws are popular, and they are used for multiple purposes. Moreover, these power tools also come with different types of features and design. Moreover, some are for the use of light-duty works, and some are for the use of professionals. So in all these categories, there is a strong possibility of choosing the wrong power tool.
Here in our buying guide of the best cordless saw for cutting branches of trees, we will discuss some important factors to check. We will guide you entirely to pick the best power tool for your work according to your need.
Cordless Pole Saw:
If you are the owner of a medium to large length yard and specifically want a pole saw for cutting tree branches, then Cordless pole saws are a perfect choice. The cordless pole saw comes with a battery and charger.
These days manufacturers focus on more extended battery life. So with a cordless pole saw, you can work continuously for 4 hours.
Moreover, Cordless pole saws are also ideal choices for tree branches with a diameter of eight inches. In other benefits, they are noise-free. Moreover, there is disgusting entanglement of cords, and you can do your work with maximum flexibility.
If we talk about price ranges, they are less expensive than gas-powered models. The average price of a cordless pole saw is between $150-$300. They are perfect for trimming and cutting your home yard tree branches.
Height:
As we are buying a pole, saw for the cutting and trimming of branches trees, so height is an essential factor to consider. The bar saw's working height will indicate how long you can do the trimming and purring work of your trees.
The working height is different for every pole saw. The actual height includes the length of the user's arm and the pole's length saw bar. Usually, manufacturers count 2 inches user arm length and make bar height 7-8 inches. So overall, you can do work up to 10-inch height.
The maximum height of the pole saw is recommended 12 inches. The reason is greater height than this can be dangerous. You will feel less control on the saw at the greater height, and it is an excellent hazard if you are doing your work in a windy condition.
However, if you want a greater working height than 12 inches, then go for telescopic types. The telescopic has extra height for extended reach.
Length of the Cutting Bar:
The second most important thing to consider is the length of the cutting bar. The cutting bar length determines the work area or the cutting tree branch's diameter that you can cut.
The standard for the length bar should be 2 inches more than the cutting tree branch's diameter. The most common length you will find in a good quality saw is 8 inches. However, the range of cutting bar length varies from 6-12; anywhere between this is the right choice.
Voltage:
Higher voltage means higher power. If you have a large yard, then you can prefer a pole saw with higher voltage. On the other hand, if you have a small number of trees, then you choose a saw with 20-30 volts.
Weight:
If you are super conscious about the pole's weight, saw, then the best choice for you is an electric cordless pole saw. The reason is electric models are much lighter weight than gas-powered models. The gas-powered models are not easy to operate.
On the other hand, the gas-powered models are heavyweight and suitable for heavy-duty work. The heavyweight pole saw comes in weight above than 20 pounds. The lightest model has a 7-pound weight also.
Here we will recommend you try to pick a pole saw that weighs between 7-15 pounds. This weight is an average weight for a pole saw.
FAQ: Cutting Tree Branches with The Cordless Saw
Q. Should I cut the dead branches of my tree?
The answer to this question is yes. The dead tree branches attract insects and worms. The dead tree branches can cause fungal and insect problems. All these insects will get attracted towards the dead part of the tree.
Once they get into, these insects can damage your healthy and beautiful tree. For this reason, it is essential to cut the dead branches of the tree regularly.
Q. What is the best time to trim the trees?
There is no specific time for the trimming of the trees. You can trim between fall and spring. Your trees need trims when your tree leaves fall or flower blooms. Moreover, at the start of spring and the end of fall, your trees need trimming. For more assistance, you can also take help from any professional.
Q. What happens if you cut all the branches off a tree?
If you will over-trim or over prune the tree branches, your tree may start to die. This happens only with the weak trees and is not able to initiate growth from a new level. A healthier tree can start all its growth process again.
So whenever you do trimming, don't over cut the branches. Or don't go out of the way for pruning. If your trees are healthy, then you can do trimming to more extent. But still, never do too much trimming or pruning.
Q. What is the best saw for cutting tree branches?
If you want a faster cutting of your tree branches, the best tool is a chainsaw. A chainsaw is a potent tool and can do all cutting and trimming of larger tree branches. Nowadays, there are various types of chainsaws.
You can say that, with the advancement of technology, chainsaws were also modified. There are gas-powered models, electric power models, corded and cordless saw. Out of all these, the best cordless saw is the perfect choice for cutting tree branches.
These machines come with a lot of power and make all the process quick and easy. However, while using any chainsaws, take preventive measures. The reason is they are powerful, but still, they are dangerous.
Q. What is the best electric saw for cutting tree branches?
The electric saw offers maximum power and ease of use for cutting branches. Furthermore, the best electric saw comes with a lot of flexible features. For example, many saws come in the jigsaw and reciprocating saw. So you can do all kinds of work with a single tool.
Moreover, the best electric saw should be in a lightweight and portable form. So you can use it for a long time without tying your arms and joints. Furthermore, the battery power of an electric saw also works for a longer time.
Conclusion:
There are dozens of types of chainsaws. One of them is a cordless saw. Unlike other chainsaws, they are not so heavy. Infect, they are lightweight and portable. You can easily maneuver them from one place to another.
Moreover, they come with enough power for pruning and trimming, and handling trees' branches. They are convenient to use and come with a longer run time.
So if you have a small backyard, then any best cordless saw for cutting tree branches has all your needs. You can pick the best tool from our above list and can enjoy your working time much more