Growing plants naturally seems hard enough, but doing it artificially sounds almost impossible! To grow plants indoors artificially, you need to set up the environment just right, from selecting the perfect soil to your grow lights.
That's why we'll be discussing grow lights, more specifically, help you choose 3000 Watt Grow Lights through our findings from our research.
Here, we will be exploring 5 of the best 3000 Watt LED Grow lights that we chose after they met our criteria. So, without any further ado, let's jump right into exploring your options!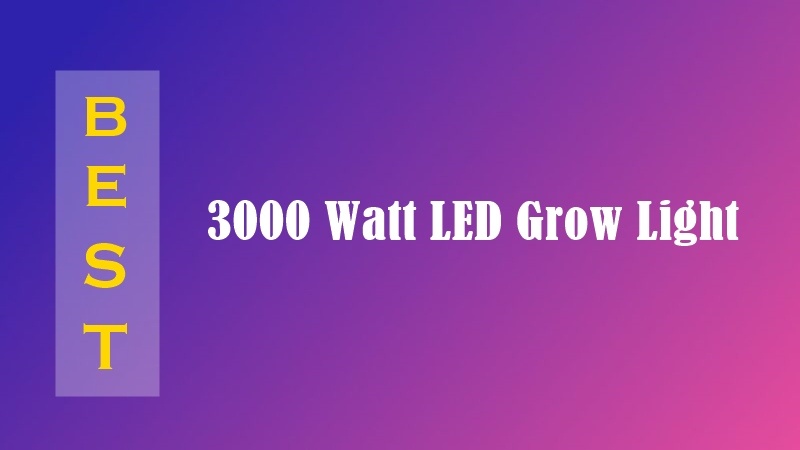 5 Best 3000 Watt LED Grow Light Reviews
Here are our recommendations that you need to look out for. Please read our reviews to get to know them better.
1. King Plus 3000W LED Grow Light
King Plus has made a big name in the market as a brand that produces very bright LED grow lights, and their 3000W LED grow lights do not disappoint. In terms of design, they are pretty large with dimensions of 26″ X 15″ X 6″, and they weigh in at 16.2 lbs which are not too heavy, so you can easily transport them.
This product also has a great build, so you don't have to worry about durability. Coming to the main feature, this grow light has a whopping power output of 3000W, which is given from 300 LED bulbs of 10W each.
This LED grow light is full-spectrum, meaning that you will be replicating a natural environment lighting quite easily with this piece of gadget. Moreover, the full spectrum of lights is 12-band, ranging from about 380 nm to 780 nm. Finally, for even better growth, you will be getting UV and IR lights.
Your plants will be benefitting greatly from the direct lighting thanks to the bulbs at varied angles of 90 degrees and 120 degrees. In addition, the two VEG and BLOOM modes make this grow light a good option, giving you more flexibility.
Although the grow lights have a power output of 3000W, the power input is only about 1/6th of that when both modes are on, so you don't have to fret about absorbing too much power.
You have to look out for a great cooling system when the power output is as high as 3000W, and thankfully the King Plus 3000W has an excellent cooling system with multiple fans on the back as well as heat vents.
Pros
Very affordable
12-band full spectrum light so it replicates natural sunshine
Excellent Cooling System to dissipate heat properly
Has both VEG and BLOOM modes, providing better flower growth
Very bright and covers a large area
Cons
Verdict
All in all, the King Plus 3000W grow lights with Samsung LM301B LEDs are a great choice if you are in the market for something big, bright, and affordable.
2. Mars Hydro TS 3000W LED Light
If you are looking for something smaller, sleeker, lighter, but just as bright, we think we have the right pick for you! The Mars Hydro TS 3000W has been creating some good buzz in the market, and we will be showing you just why.
Investing a little extra money initially on this thing will save you some more money in the future because this piece of machine is insanely efficient. The reflector and the absence of a fan both play a key role in increasing the efficiency of this lamp.
Another advantage of not having a fan is that loud mechanical noises will not bug you. You don't have to stress about heat not being dissipated here; even without a fan, the cooling system works perfectly fine.
Wideband full-spectrum lights are featured in this grow light, so you can do indoor flowering and plant all other kinds of growers with the help of IR lighting along with many more lighting settings.
Always keep out for a full-spectrum lighting system because it does wonders for plant growth and their photosynthesis. However, what keeps everything very bright and efficient are the 1016 onboard quantum LEDs.
The coverage is not that great, but this light will be ideal for you if you are using a 5 X 5 grow tent. To make things better, the PAR score of this product is 1095.6umol which is quite phenomenal for a slim design like the Mars Hydro TS 3000W.
Power consumption is not an issue either because this lamp needs a maximum power input of 450W, which makes it a sustainable option.
Pros
Great efficiency, so your electricity bill won't be through the roof
Excellent full-spectrum lights for better plant development
Slim, light, and durable design
No fan noises to pester you
Decent PAR value meaning better growth
Cons
Verdict
The Mars Hydro TS 3000W is a good choice for everyone who would like a grow light with a modern design, but the best for people who care a lot about efficiency.
3. Aglex COB LED Grow Light 3000W
There are plenty of COB grow lights available, but the one manufactured by Aglex is one to keep your eyes on. This lamp is slightly heavier, weighing about 17 lbs, but is small enough to be transported easily with dimensions of 21″ by 17.8″ by 2.4″.
The power output is high, making you think that this thing might get very hot, but thanks to its large rotating fans, everything can be kept cool and comfortable, which helps with plant development.
You can get brilliant results with this grow light, and a lot of the credit goes to the three pieces of developed 3400K COBs – these are designed just for better plant growth indoors.
Optimal full-spectrum lights are packed in this lamp, which ranges from 380 nm to 780 nm. The product achieves this optimal full spectrum by the inclusion of additional light beads in the panel.
You will also be getting both VEG and BLOOM modes which makes this lamp a convenient option. The PPFD value of this product is just insane, at 1855 umol/m2s when hanging from 24 inches, and the value goes higher when you hang it from a smaller height, and you will grow a better as well as a healthier plant with a higher value of PPFD (Photosynthetic Photon Flux Density).
Although the Aglex COB LED grow light may not be as efficient as some other grow lights in the market, with a mere power draw of about 650W, it is still definitely quite efficient.
Pros
Quite affordable
Optimal full spectrum lights create a natural environment
It has a daisy chain feature which makes planting easy
High PPFD value meaning it is very bright
Cons
Verdict
The Aglex COB LED is an excellent option if you are looking for something that won't leave your pockets empty but, at the same time, deliver outstanding results.
4. FAMURS 3000W Triple Chips LED Grow Light
The FAMURS grow light contains the new cutting-edge triple chip 15W LEDs, which ensures a very bright environment for the plants, and so the lighting replicates natural sunshine accurately. In addition to that, the triangle distribution featured in the LEDs makes the lighting uniform in the grow tent so that the growth of plants is optimal.
You can adjust between PAR/ Lumen output, and the PAR value is phenomenal when hung from 24″ height. This grow light has both VEG and BLOOM modes as well, so you can easily grow plants indoors, from vegetables to flowers. Here's a full explanation of growing plants indoors with led light.
These lights, to make things better, are full spectrum, ranging from the wavelength of 365 nm to 750 nm. In addition, daisy chaining is available in this product, and this is great for a light with a relatively low price tag, so you will definitely be getting your money's worth.
An advanced cooling system is packed in this lamp by low-noise, high-speed fans and holes in the aluminum body, so heat is adequately dissipated. One of the best features of this item that sets it apart in the market is its extensive coverage area of 8.5′ by 7.5′, which is suitable for larger growers.
You will be able to carry this thing around quite easily as it's not as big, with dimensions of 20.7′ by 11.5′ by 2.4′. Moreover, as it has a power output of 3000W and a power input of 510W, you could say that this product is pretty efficient.
Pros
Full-spectrum light ranges from 365 nm to 750 nm
Energy-efficient so that power consumption will be low
It has a large coverage area, which means you can use a large grow tent
Triple chip 15W LEDs for a bright environment
High PAR values
Cons
The cooling system is average
Verdict
FAMURS 3000W LED grow light is an overall nearly perfect package, and it HAS to be one of the best options now in the market. So, it's a thumbs up from us.
5. BESTVA DC Series 3000W LED Grow Light
You may think that since BESTVA is a Chinese brand, everything is for the show, but we are here to show you otherwise! This lamp packs full-spectrum lights of 9-band, so your plants will be getting the light it needs for vegging and flowering.
For better growth, you have VEG and BLOOM modes which seem to be an absolute requirement these days. The lights use double chips, which is certainly not as bright as the triple chip LEDs, but it surely gets the job done.
BESTVA claims that the coverage area from a height of 24 inches is 7.8 X 7.5 feet, but the actual claim is lower yet, still enough. The penetration power of this light is something that is quite noteworthy because it exceeds the bar set by other grow lights by leaps and bounds. Transporting this lamp will be no issue thanks to its lightweight coming in at only 10.6 lbs.
The highlight of this product is its ridiculously low price tag. For a fraction of the money, you get most of the high-end features, which are packed in the top of the line products.
Pros
9-band full-spectrum lights for replicating sunshine
Both VEG and BLOOM modes meaning you will be able to provide the different lights for all the stages, from vegetable to flower growth
Lightweight, so it is very portable
Great value for money
Cons
Highly exaggerated claims by the manufacturer
Verdict
So, if you are looking for the most affordable choice that still has some of the best features BESTVA DC Series 3000W, however, you should keep all of the drawbacks in mind before you make your purchase. You might want to read our latest article about the top grow light for 3×3 grow tent.
FAQs On 3000 Watt LED Light
How many plants can a 3000 Watt LED grow?
The number of plants you can grow using an LED grow light dramatically varies depending on the size of the grow tent and the power of the light. As a standard, 50 Watts of LED grow light is needed for 1 square foot grow space. So, the number of plants you can grow using a 3000W LED varies between 1 to 60 plants.
How much area does a 1000 Watt grow light cover?
As previously mentioned in the last question, 1 square foot of grow space is appropriate for 50 Watts LED grow light. Therefore, 1000W grow light can cover 20 sq ft.
How much power does a 3000 Watt LED light use?
The power input needed for 3000 Watt LED grow light differs a lot depending on each light. However, the products discussed in this article are all quite efficient, so the average power consumption by these lights ranges from 450W to 650W.
What is the average cost of 3000 Watt LED grow lights?
The price of 3000 Watt LED grow lights is too subjective to give a direct answer. So, for context, something like a BESTVA DC series is substantially cheaper than a Mars Hydro TS 3000W light, so the price is something you will have to keep an eye out for by yourself.
Are full spectrum lights required for growing plants indoors?
If we said that full-spectrum lights are imperative for growing plants indoors, that would be a lie. However, we must say that full-spectrum lights ensure significantly better growth of plants as it replicates the natural solar spectrum.
Final Words
With the number of products in the market claiming to be the best, it can get very overwhelming to pick the correct item. So, we hope that by providing these detailed reviews of 5 of the best 3000 Watt led grow lights, we were able to guide you to find the right choice.